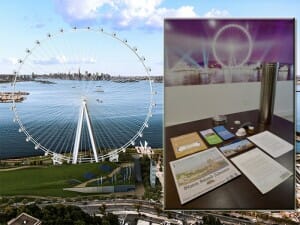 Danny the Dolphin has made a splash as he plunged into history this weekend as part of Staten Island's first-ever 21st Century time capsule buried in the concrete foundation of the New York Wheel.
Danny was joined by a small grouping of other iconic symbols of the borough and placed in the capsule by Rich Marin, president and CEO of the New York Wheel and newly-appointed College of Staten Island (CSI) board member.  The capsule was placed into the final pour of the foundation at a ceremony this weekend.
"The New York Wheel will certainly prove to be an economic stimulator for Staten Island and New York City," commented Khatmeh Osseiran-Hanna, Vice President for Institutional Advancement and External Affairs at CSI. "Having the College mascot, Danny the Dolphin, being a part of such an historic event is an outstanding testament to the College's 60th anniversary celebration of excellence in education since 1956."
CSI's ever-so-cute and smiling mascot will see the light of day again in the year 2646 when the capsule is unearthed.
In 630 years, one year for every foot in height of the Wheel, onlookers will also discover additional items such as Saturday's copy of the Staten Island Advance; a New York Wheel shaped USB drive containing a video of how the Wheel was built; a jar of honey, one of the few foods that never decomposes, which was produced on site at the URBY residential/commercial complex in Stapleton as part of the North Shore renaissance; and a $10,000 gift certificate from Empire Outlets, New York City's first outlet center, for a lucky future shopper at the complex being built in conjunction with the Wheel.
The year 2016 seems to belong to Danny as he found his way into hundreds of photos from around the world sent in by CSI students, alumni, and friends for the Where's Danny? Photo Competition on instagram.com, #csidannythedolphin.
"Every aspect of this project is a big undertaking" noted Marin in the Staten Island Advance, "and we think it's fitting to commemorate with both the men and women on the ground and the many members of the community who have supported this project and continue to help make it possible."
To learn more about the time capsule, read the article at: silive.com/news/index.ssf/2016/06/iconic_staten_island_symbols_f.html