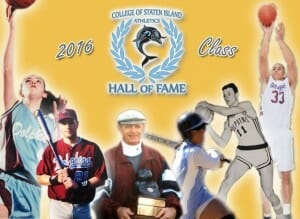 The College of Staten Island is unveiling its Athletics Hall of Fame Class of 2016, with plans to celebrate the memories and accolades of six deserving members with its inauguration ceremony this coming fall.  The year's chosen field will be honored on Thursday, October 27, 2016, at The Vanderbilt at South Beach.  The eclectic mix of candidates will join the 14 members chosen in the College's first two classes in 2012 and 2014, which honors deserving individuals from both the College of Staten Island and Staten Island Community College.
The distinguished honorees of the CSI Athletics Hall of Fame Class of 2016 are:
– Jason Anarumo – Men's Baseball Player (1994-97)
– Christina D'Arpa – Women's Softball Player (2004-07)
– James Donlan – Men's Soccer Coach (1964-95)
– Tara Gagliardo – Women's Basketball Player (1996-00)
– Ken Lam – Men's Basketball Player (1968-70)
– David Paul – Men's Basketball Player (1998-02)
"I'd like to thank the members of the Hall of Fame selection committee for assembling an outstanding class of honorees," said CSI Athletics Director Charles Gomes. "With so many worthy candidates to choose from, it's never an easy task to narrow down the field, and I think the committee assembled a well-rounded group that showcases the history of athletic achievements at the College of Staten Island."
Basketball hardwood stars dominate the field this time around, with two on the list having played during the same era at CSI, one that saw the Dolphins basketball teams win a total of four CUNYAC Championships.
Natural point guard Tara Gagliardo was the centerpiece to the Dolphins women's hoops program from 1996-00, starring under then coaches Eugene Marshall, Jr. and Marguerite Moran.  She remains the school's all-time leader in assists (537) and steals (333) and left the program as the school's all-time leading scorer with 1,310 points, since broken.  Gagliardo stands 10th all-time in rebounds at the College and 5th all-time in career three-pointers, winning championships in 1997 and in 2000, her freshman and senior seasons.  She was the CUNYAC Tournament MVP in 2000, averaging a team-best 13.4 points per game while setting the school record with 178 assists, good for 6.4 per contest.
On the men's side, David Paul was just as disruptive on the interior for Head Coach Tony Petosa's sides from 1998-02.  Like Gagliardo, Paul collected CUNYAC titles his freshman and senior seniors, ending his career with a banner year, averaging 19.2 points en route to a Most Valuable Player honor from the conference, an achievement he also won following the 2000-01 season.  By the time his career was complete, Paul was the school's all-time leading scorer with 1,684 points, since broken, but the dominating forward still stands 5th all-time at the College in that department while placing third all-time in blocks and 15th all-time in rebounds.
The success of the CSI men's basketball squads were ushered in by dominating teams from Staten Island Community College, coached by current Hall of Famers Ira Sweet and Evan Pickman.  A major force behind two of those seasons was the stellar play of Ken Lam from 1968-70.  Lam's unprecedented run featured an astounding 1,124 career points alongside 861 rebounds, good for 26.1 points and an even 20.0 rebounds per contest, numbers that never again were duplicated at the College.  He left SICC as the school's all-time leading scorer and was a Junior College All-American in 1969 and 1970.  Lam would leave the Dolphins' two-year program to star for both NYU and St. Francis College.
Doing the same on the baseball diamond was power-hitting star Jason Anarumo, who anchored the Dolphins through four seasons that culminated with a CUNYAC Championship in 1997 alongside 26 wins, good for second all-time to that point.  Anarumo batted a stellar .419 over 177 career games, belting out a record 28 homeruns over the stretch.  He finished his career in the top five in eight offensive career categories including RBI, runs scored, doubles and triples.  His 14 homeruns and 57 RBI in 1997 remain CSI single season records, a year that culminated with CUNYAC Tournament MVP honors.
Just as potent at the dish and doubling in the circle was softball standout Christina D'Arpa.  The hard-throwing righty sported a career 36-18 record in the circle with a microscopic 1.85 career ERA, still standing as a school record.  She also stands third all-time at the College in wins and strikeouts while sporting a career batting average of a hefty .450 with a school best 19 triples to go with 168 hits and 116 RBI, both third all-time.  D'Arpa collected three CUNYAC Championships, winning CUNYAC Player of the Year in 2004, 2005, and 2007, taking Tournament MVP in 2005 and 2007.  Her 1.52 ERA and eight homeruns in 2007 remain school records within a single season.
Rounding out the distinguished list of honorees is long-tenured soccer skipper James Donlan who pioneered the Dolphins program on the pitch for three separate tours spanning almost four decades.  His first tour of service was from 1964-74 at SICC, a stint that included a four-year stretch that included two NJCAA Regional Championships and a 54-6-4 record.  He also coached the men's golf team within that time at SICC.  The College suspended the soccer program for two seasons as SICC merged with Richmond College to create the four-year varsity program, and when play resumed Donlan led the program for its opening two years in 1977-78, leading the team from five games under to three games over .500 in just two seasons.  After departing from the program, Donlan returned from 1982-85 and from 1994-96, both times taking over the program following disastrous seasons and resurrecting the team to prosperity.  He ended his career with a CUNYAC Championship and CUNYAC Coach of the Year honors in 1996, and remains the SICC and CSI all-time wins leader in men's soccer.  Donlan also served as an assistant coach to women's basketball before his eventual retirement in the late 90's.
The six honorees will be inaugurated collectively in October.  They were chosen among dozens of potential hopefuls, all nominated by the CSI and outside community.  A total of 12 members make up the Hall of Fame committee at the College, representing a cross-section of administrators, coaches, students, media and at-large members of the Staten Island community.
CSI Associate Athletic Director David Pizzuto, who has served as the committee's Chairperson since 2010, was delighted with this year's class.
"The task of selecting six individuals among so many deserving members is a tall task, but I couldn't be happier with the selections," he said.  "The Class of 2016 is one we can be extremely proud of.  Making the call to these individuals is one of the true highlights of my year.  These individuals set the course for excellence that has come to define our athletic programming today.  This event is humbling to be a part of and we can't wait to honor these six individuals later this year."
The inauguration event will take place at The Vanderbilt at South Beach located at 300 Father Capodanno Boulevard, on Thursday, October 27, 2016, from 6-10pm, and will feature a full three-course dinner with open bar.  Tickets can be purchased at $100 each per adult and $60 for children, by calling (718) 982-3169.  Donations, sponsorship opportunities and journal postings are also available.  For more information call (718) 982-3169 or log onto www.csidolphins.com.