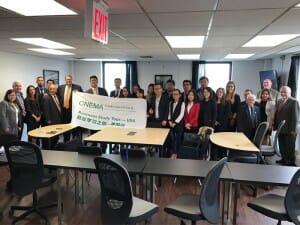 A group of 16 MBA students and two chaperones from seven universities in China visited the newly established College of Staten Island (CSI) Incubator last week, and they received a warm welcome from Dr. William J. Fritz, President of CSI; Ken Iwama, Esq., JD, Vice President for Economic Development, Continuing Studies, and Government Relations; Prof. Susan Holak, Dean of the School of Business; and Dean Balsamini, Director of the Small Business Development Center (SBDC).
The guests met with Christopher Cruz Cullari, Executive Director of Continuing Education and Professional Development, and Jasmine Cardona, Director of Workforce Development and Administration, to showcase the advanced technology at the Incubator and provide an overview of their service. Mr. Richard Marin, CEO of the New York Wheel, was also present to give an update on the progress of the New York Wheel to the guests. "Our guests really appreciated the warm welcome from the CSI administrators and the opportunity to obtain first-hand knowledge of the Wheel," said Winnie Brophy, Special Programs Coordinator at the Center for Global Engagement.
This week-long program was sponsored by the Center for Global Engagement. The visit to the U.S. is a combination of tourism and professional visits to companies in New York City. In addition, participants were able to attend seminars from faculty members Prof. Bill Dubovsky, Prof. George Wang, and Prof. Alan Zimmerman from the School of Business, as well as learn about local commerce and society in New York City. Participant Bo Li said, "Why do the professors know so much about China but they are living in the U.S.?  It is amazing!" "I will come back to Staten Island in 2018 and ride on the New York Wheel," said Jiang Li.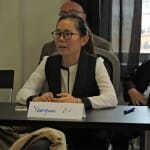 Balsamini also brought the guests to have lunch at Nunzio's Pizzeria, which was seriously devastated by Superstorm Sandy in late October 2012, and rebuilt to become a present-day Staten Island success with the help of the SBDC. "We love the pizza in America much better than the one from Pizza Hut in China," said Bo Li.
All of the participants have full-time jobs in China, and lived with host families on Staten Island. None of them had been to the U.S. before, so they were able to benefit from learning about U.S. culture and business. This should give them an advantage in their professions in China as they take this knowledge back with them.
The group also visited the UBS Investment Bank in New York, the Federal Reserve Bank of New York, and was hosted by the Hon. Philip Straniere at the Richmond County Civil Court to experience a real civil court case.
This is the second year that the College has hosted the MBA Business Study Tour. It is hoped that  this tradition will carry on in an effort to help young future entrepreneurs.