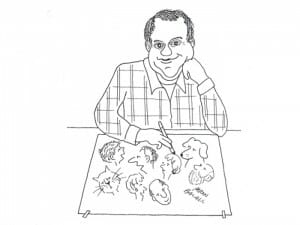 Teacher, writer, cartoonist, and long-time Staten Island resident Aaron Bacall was honored and remembered at the College of Staten Island (CSI) Archives and Special Collections.
Bacall, whose cartoons were published in the Staten Island Advance for thirty years, was also an adjunct professor at CSI, teaching in several programs. He also had a career as a research chemist, a high school chemistry teacher and authored a humor column for the Advance.
The event in the Archives featured a selection of Bacalls' cartoons on exhibit as well as commentary on his life and career from his wife, Linda Bacall, who donated his papers to the College.
A graduate of City College, Bacall had Master's degrees in Business Administration and Chemistry from New York University.
His cartoons also appeared in The New Yorker, The Wall Street Journal, and other national and international publications.
Though a good deal of curating will be required to prepare his work, which includes more than twenty-five thousand drawings, the CSI Archives will be hosting occasional events to feature Bacalls' contributions.