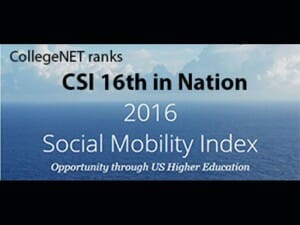 The College of Staten Island (CSI) has ranked 16th out of more than 900 colleges nationally in CollegeNET's annual Social Mobility Index (SMI).
This is the second consecutive year that CSI has placed in the top 20 colleges.
The index was created by CollegeNET, a company that provides Web-based services to some 1,300 higher education and nonprofit institutions around the world. For the past three years, CollegeNET has been ranking four-year higher education institutions throughout the U.S. according to how effectively they enroll students with low-income backgrounds and graduate them into promising careers.
According to CollegeNET, a high SMI rankings means that "a college is contributing in a responsible want to solving the dangerous problem of economic immobility in our country."
The CollegeNET ranking adds to the impressive list of honors that CSI has received.
CSI recently received the following accolades:
#11 "Top Collegiate Vocational & Trade Education Programs in New York" (Community for Accredited Online Schools)
#27 "Top Salaries for Graduates" (U.S. Department of Education)
#4 "Most Affordable Four-Year Online Colleges in New York" (Online Colleges.com)
#18 "Best-Bang-for-Buck College in the Northeast" (Washington Monthly)
Designated "Top Military Friendly School" (G.I. Jobs Magazine)
View the entire list of CSI's recognitions.