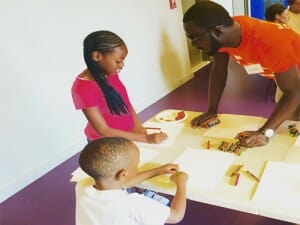 The prestigious Jeannette K. Watson Fellowship is a highly selective, competitive award, in which only 15 students from 12 New York City colleges are selected each year.
Being a recipient of this impressive scholarship has in no way changed Joseph Gyasi's '18 humble pursuits.
The College of Staten Island (CSI) Pre-Med Biology major tirelessly volunteers at the Emergency Department of the Montefiore Medical Center as well as the New York City Department of Homeless Services in their annual Homeless Outreach Population Estimate (HOPE).
"You never realize how blessed you are to have a home until the winter hits. Homeless people tend to marginalized in our communities and I believe as a society we are obliged to support each other. It's always a blessing to know that through our efforts, people are able to receive the help they deserve… Volunteering in the Emergency Room, you get to see life-and-death cases and this pushes you to have a different perspective on life. So much so that you are inspired to take life more seriously and encourage others to live healthy," Gyasi said.
While in his home country, the Ghana native also headed a team of 30 students traveling to five villages and small towns in the Ashanti region of Ghana to educate locals about various laws regarding tenure systems and the need to register land. Back in the U.S., he interned at Broadway Housing Communities, a non profit organization that offers affordable housing to formerly homeless people.
"It was exciting to interact with the locals to find out about the various problems facing their communities and then present their plights to the Members of Parliament for their constituencies," commented Gyasi, who is spending the winter break at the University of Michigan Health System co-authoring an article with John Greden, PhD, on the state of affairs of personalized precise treatments for mental health disorders.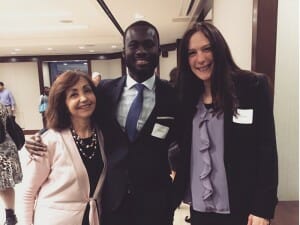 Also minoring in Psychology, Gyasi is a member of the Pre-Med Club, the African Club, and the CSI Emerging Leaders Program, and he is a CSI Student Mentor. Under the Watson Fellowship, he will take advantage of the three-year program that provides funded summer internships and other academic and co-curricular opportunities.
Gyasi is grateful to Michele Callahan, CSI Fellowship & Scholarship Advisor, who "coached me for the Jeannette K. Watson Fellowship and helped put me on track to starting my career in Health even as an undergraduate student."
Gyasi attended high school at the Presbyterian Boys' Senior High School in Accra, Ghana, and then began college in Ghana for a year before immigrating to the United States in 2014 and transferring to CSI that fall.
"CSI became my second home, rather quickly. I entered a diverse student body who were nothing like I had ever experienced. My friends became family and my professors were leaders I aspired to be like. In no time, I knew I had made the right decision by transferring to CSI," Gyasi remembers.
Gyasi extended his gratitude to Professor of English Kalliope Valadakis, PhD, who he said was "the first teacher to ever motivate me to reach my highest potential. She helped me become a writer and pushed me out of my comfort zone to be a better person for both my community and my school."
Gyasi plans to pursue a dual MD/MPH degree specializing in Psychiatry for Medicine and Health Management and Policy for Public Health, and eventually hopes to establish a medical hospital in Ghana that would provide quality healthcare that is affordable and accessible to all Ghanaians and West Africans broadly.
Working hard from the very beginning of college is, according to Gyasi, the key to student success.
"Students should understand the college journey begins truly from their freshman years and they should take those years very seriously as they can make or break one's whole academic career. Also, CSI has many opportunities to offer and students should tap into those resources," he noted.