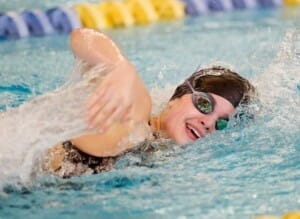 The City University of New York Athletic Conference has named College of Staten Island women's swimmer Naomi Gaggi as the CUNYAC/Hospital for Special Surgery Scholar-Athlete of the Month for December 2016. The senior from Brooklyn, NY has earned a 3.9 GPA as a Psychology major with a concentration in Neuroscience and Autism Spectrum Disorder.
The Dolphins' distance swimmer earned 10 first place finishes and a total of 24 podium finishes in the month of December alone. Gaggi is the team's second leading point getter with 188 total points through December's action. In addition, Gaggi is three-time CUNYAC All-Star and 2017 will look like more of the same for the senior, "this will be my first year to medal individually (at the CUNYAC Championships) and I'm excited. Our team put in a lot of hard work, the boys should be favored and our girls team will look to give everyone a run for their money."
The team captain began swimming competitively in fourth grade and has only improved since then. Gaggi competes for the Dolphins in the 200, 500 and sometimes 1,000 freestyle, as well as on the freestyle and medley relay teams. Distance wasn't always her forte however, "The first time I swam the 500, it kind of came as a surprise, I was not a distance swimmer, but I did well and it showed all my hard work payed off in practice." The St. Joseph Hill alumni said the transition to the storied CSI swim program was not the easiest, "I'm a much stronger swimmer now than when I first came to CSI. I didn't come from a specialized club team like others, so there was a pretty tough transition to college swimming."
Leaving New York City was never a thought when Gaggi was choosing a college for herself. "I knew I wanted to stay local in the city, CSI had a great research database and access to so many different research institutions in New York City that focus on autism research." The senior has made the most of her four years at the College of Staten Island, while being a part of two research teams on campus, Gaggi also has conducted research at the Yale University School of Medicine and Mount Sinai with nationally renowned doctors and researchers. Due to her outstanding efforts in the research field, Gaggi was recognized nationally as a 2016 honorable mention for the Barry Goldwater Scholarship. The Barry Goldwater Scholarship and Excellence in Education Foundation was established by Congress in 1986 to serve as a living memorial to honor the lifetime work of Senator Barry Goldwater. "I want to focus on neuroscience and autism spectrum disorder because there is so much known about the basic mechanisms of the brain and so little known about the social aspect of neuroscience. Autism spectrum disorder, on the other hand, is understood on the social level, but little is known about the mechanisms of the brain. I see this as a challenge that I want to further explore through neuroimaging while I obtain my PhD," states Gaggi.
"I wouldn't say that being a student-athlete has struggles, it's just obviously very time-consuming. I think the time-consuming nature helps people learn to prioritize things and manage their time better. It's certainly pushed me to be a better student." Like many other scholar-athletes, Gaggi turns the demands of being a full time student-athlete into positives, "swimming twice a day and going to the gym as well, it takes a lot of time, it's not only helped me make friends but the mindset of being an athlete also helps me be determined and to persevere in the classroom."
CSI swimming head coach Michael Ackalitis had plenty of praise for his senior captain, "Naomi is a top candidate to be the CSI Valedictorian at this year's Commencement. She is an exceptional researcher and an outstanding athlete and how she has been able to do both is amazing. She has been a very special piece to the women's program over the last four years. Her leadership has set the tone for what being a Dolphin is all about. She is a Macaulay Honors Student who is majoring in Neuroscience and boast a 3.89 GPA, she has been the leader for the women's team earning the highest GPA on campus the last two seasons. Her leadership translates to the pool where she continues to work hard and has won several gold medals at CUNY's as part of winning relays and also four school records. Naomi has been a major key to keeping the women's team going in a positive direction," stated Ackalitis.
"I've become a lot more cultured through my tenure at CSI, I volunteered in Sri Lanka with children who have autism spectrum disorder, and I studied abroad in Denmark as well," says Gaggi. Looking towards the future, Gaggi has been applying to graduate schools to pursue a doctorate in neuroscience and one day hopes to become a full-time researcher and professor in the field. "Swimming and life have taught me one thing, when it's freezing cold and you don't want to jump into that pool at 6 AM, you just have to take that initial leap, and that's the same thing you do if you want to achieve your goals," said Gaggi.
When asked what it meant to Naomi to be named December's Scholar Athlete of the Month she had this to say, "it is a really great honor to be recognized with, I really want people to see how great being a student athlete is, it not only helps me in swimming, but it's given me so many valuable lessons about life and how to be great academically."