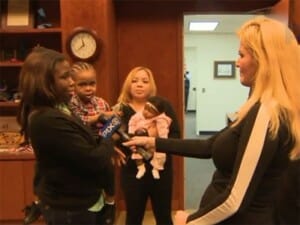 Diamond Mitchell is 24 years old, out of school, and out of work – criteria that render the young mother of two eligible for a CSI Restorative Educational Access and Development for Youth (READY) workforce development scholarship. Funded by the Staten Island Foundation and the Petrie Foundation, CSI READY provides workforce development opportunities for young people ages 18 to 24 who are out of school and not employed.
CSI recently awarded Mitchell a full scholarship for the Medical Assistant Program, as reported by Monica Morales on Channel 11 News at 5 (WPIX TV). 
"Through this transformative program, generously funded by the Petrie Foundation and the Staten Island Foundation, Diamond will participate in coursework, career readiness training, and an internship.  She will receive robust student support, including help with finding a job in her new field once she completes the program," commented Christopher Cruz Cullari, Executive Director, Continuing Studies and Workforce Development.
Mitchell and her two children are currently living at Good Counsel Homes (GHC), a supportive residential care and community-based service organization for homeless, expectant, and new mothers.
"The College of Staten Island is consistently ranked in the top 20 colleges nationally for empowering students to reach new levels of academic and socioeconomic success. We are proud to support Diamond in her quest to overcome her past and create a new future in service to our community by studying at the College of Staten Island, and thank Good Counsel for sharing a vision that embraces academic success and career empowerment for new and expectant mothers," said Ken Bach, Director of Communications at CSI.
Warmly greeting and congratulating Mitchell on the scholarship award, Vice President for Economic Development, Continuing Studies, and Government Relations Ken Iwama recalled the triumphs of CSI's 2016 Valedictorian RinZhi Go Larocque, who began in the CUNY Language Immersion Program (CLIP).
Growing up in foster care, Mitchell eventually stayed with family in Alabama and then New York. After illness and homelessness on the streets of New York with one child and pregnant with her second child, Mitchell finally found shelter with Good Counsel Homes, where she lives with her two children and takes parenting classes.
People 18 to 24 years old, out of school, and unemployed, may be eligible for the CSI READY workforce development scholarship, funded by the Staten Island Foundation and the Petrie Foundation. Call 718.982.2182 or visit the Continuing Studies Web site and apply.