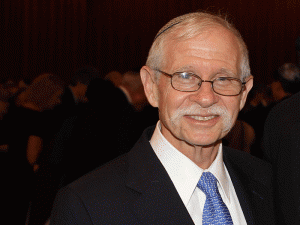 Fred Naider, PhD, Distinguished Professor of Biochemistry and Chemistry at the College of Staten Island (CSI) has been awarded a Jakob and Erna Michael Visiting Professorship at the Weizmann Institute of Science for the summer of 2018. Dr. Naider will travel to the Weizmann Institute in Israel, where he will collaborate with Professor Jacob Anglister on research related to the HIV-1 virus which is the cause of Acquired Immune Deficiency Syndrome (AIDS).
"This Fellowship will enable me to continue to collaborate with a group that is conducting breakthrough research on the structural biology of a pathogenic virus that remains a scourge in underdeveloped countries.  Such interactions keep my research current and allows me to deliver meaningful and current scientific perspectives to students in my classroom" commented Dr. Naider, who is also a Leonard and Esther Kurtz Term Professor at the City University of New York (CUNY) Graduate Center.
Dr. Naider plans to be primarily involved in research activities that involve the development of new methods to study peptide-protein interactions. Such interactions are ubiquitous in living cells and are the basis for the regulation of metabolism, cell growth and for the perception of external stimuli by cells. Understanding such interactions at the molecular level should enable progress on numerous diseases and pathological states.
"The award of the Jakob and Erna Michael Visiting Professorship is testimony of Dr. Naider's outstanding scholarship and international recognition. We are very fortunate to have Dr. Naider among our distinguished faculty. He is an incredible role model for faculty and students alike," noted Vivian Incera, PhD, Professor of Physics and Dean of Science and Technology.
The Erna and Jakob Michael Visiting Professorships were established by the Michael Family for the purpose of attracting outstanding scientists in all areas of contemporary research to the Weizmann Institute.