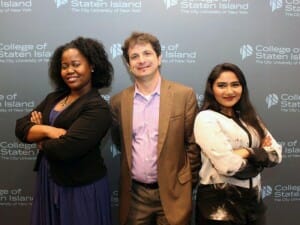 National Grid empowers tomorrow's workforce through sustained commitment to the College of Staten Island (CSI) and STEM students
National Grid has a long- standing partnership with CSI providing scholarships to support students interested in advancing in engineering, and in general math- and science-related careers, and supporting workshops to engage high school students in the STEM curriculum.
The company has provided a grant, which has been allotted to the College over a three-year period to support STEM scholarships and National Grid's Engineering Workshop Series with local high schools. Scholarship recipients are selected by the College of Staten Island's Scholarship Selection Committee of the Career and Scholarship Center. Any number of scholarship awards in any amount may be made each year, up to the fund balance available for spending. Qualified students must submit the appropriate College-approved financial aid form each year to be eligible for an award.  This year, there were 11 scholarship recipients.
There was a time when Kandace Rodriguez '17 worked two jobs while attending school full time, and the 27-year old College of Staten Island (CSI) Electrical Engineering student is well aware of how stressful this schedule can be. As a recipient of the National Grid Scholarship, Rodriguez can focus less on funds and more on her studies.
"This scholarship will allow me to continue to pursue my degree. Tuition can become quite a burden and while studying engineering, it is very difficult to have a job and a great GPA," commented Rodriguez, who plans to pursue a Master's in Bioelectronics or Electrical Engineering. "Sustainable power systems intrigue me, and in the future, I would love to be a part of the innovation in more green and sustainable power systems," she said.
Rodriguez, a member of the Collegiate Science and Technology Entry Program and the Institute of Electrical and Electronics Engineers (IEEE), is grateful for the Scholarship as well as the support she receives at CSI.
"The CSI Engineering program is outstanding. I previously attended a large university and remember feeling very disconnected when I could not speak with a professor or advisor concerning difficulties," noted Rodriguez.
Another elated and grateful Scholarship recipient, Bahira Akramy '19, plans to use skills she obtained at CSI to become a Professional Engineer (PE).
"I was so happy because I felt that my hard work had been recognized and this made me feel motivated to work even harder," commented 19-year old Akramy, a Verrazano Honors student who is also a member of the IEEE and the Roosevelt Clubs.
The scholarship recipients were recognized at a meet-and-greet event at CSI where representatives from National Grid Inc. congratulated students on their success, learned about the value of the opportunity provided to them, and commended them for their hard work.
"National Grid – and the energy industry as a whole – needs to get young people on board with sustainability and inspire a new generation of STEM professionals," said Frank Lombardo, Director, Construction and Maintain, National Grid.  "The company is committed to focusing our community investment on building a qualified and skilled workforce for the future and our partnership with CSI helps support students who are interested in developing productive math- and science-related careers."
"National Grid has been extremely generous and supportive of our high school student outreach as well as the college student scholarship programs for the last seven years. Their passion for STEM starts from their top management and trickles down to their technical staff as is evident by recent visits to CSI by their executives as well as their amazing engineers and management teams. Their support of our programs has resulted in spectacular increases in student enrollment in STEM at CSI and in particular in Engineering where we have experienced a student enrollment growth of over 150% over the last three years and the emergence of several new programs," said Prof. Neo Antoniades, PhD, Chairman of the Department of Engineering Science and Physics and National Grid Inc. Workshop principal investigator.
"National Grid is committed to enhancing STEM education in our communities and developing the next generation of engineers and scientists," said Mauri Myers Solages, Manager Corporate Citizenship.  "Our partnership with CSI supports National Grid's 'Engineering Our Future' initiative to build a qualified and skilled workforce."