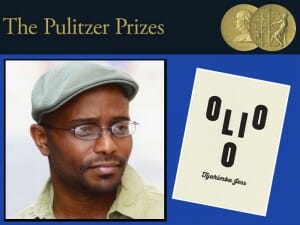 College of Staten Island Associate Professor of English Tyehimba Jess has been named the 2017 Pulitzer Prize Winner in Poetry for Olio, a volume of original verse published by Wave Books.
The Pulitzer organization called it a "distinctive work that melds performance art with the deeper art of poetry to explore collective memory and challenge contemporary notions of race and identity."
Olio, published in 2016, has been called "Encyclopedic, ingenious, and abundant…" in Publisher's Weekly's starred review, and was selected as one of the five best poetry books of 2016. Olio was a finalist for the National Book Critics Circle Award and for the PEN/Jean Stein Book Award in 2016.
Jess is also the author of Leadbelly, a winner in the 2004 National Poetry Series. The Library Journal and Black Issues Book Review both named it one of the "Best Poetry Books of 2005." He received a Lannan Literary Award December 2016.
Professor Jess has taught at CSI for seven years, and is currently on sabbatical in Chicago, returning to the classroom in fall 2017.
"Tyehimba is a great colleague and teacher, too, and we are absolutely thrilled for him," commented Lee Papa, Chair of the English Department, adding "our amazing creative writing faculty includes Patricia Smith and Cate Marvin, both Guggenheim fellows; Ava Chin, a Fulbright fellow; Sarah Schulman, a winner of both a Fulbright and a Guggenheim; and, now with Tyehimba, a Pulitzer winner."
"We have always known Professor Jess to be an integral component of the College of Staten Island experience, where he has shared the emotional depth and range of his poetry at many major events," noted Nan M. Sussman, PhD, Dean of Humanities and Social Sciences. "As coordinator of the Schwerner Writer's Series, Professor Jess invited emerging and nationally-recognized poets to read to the college community and speak in classes. The College is honored and proud of this national distinction, and delighted that students at CSI have the opportunity to learn the craft of poetry in his classes."
Read the Author's Biography and more about the Winning Work at pulitzer.org>