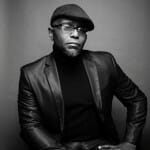 The Dean's Symposium will present "A Poetry Reading with Tyehimba Jess" on Tuesday, Oct. 10 in the Center for the Arts (Building 1P, Room 119) from 2:30pm to 4:00pm.
Professor Tyehimba Jess of the Department of English will read from and discuss his new book Olio, which has been honored with the 2017 Pulitzer Prize for Poetry. Weaving together poems and historical documents, the collection explores the lives of African American performers and artists working in the period between the end of the Civil War and World War I. Professor Jess's previous book, leadbelly (2005), narrated a "biography in poems" about the blues singer Huddie Ledbetter. In Olio—whose title refers to the musical medley in early 20th-Century blackface minstrel shows—the poet takes on the even more ambitious project of celebrating the cultural contributions of a variety of AfricanAmerican performers, including Sissieretta Jones, Henry "Box" Brown, Bert Williams, the Fisk Jubilee singers, and Scott Joplin.
A reception will follow Professor Jess's reading.
CLUE credit is available for this event.