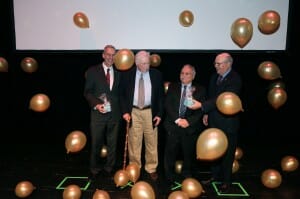 The CSI Center for the Arts Williamson Theatre played host to an enthusiastic crowd on December 7 as the College celebrated this year's Convocation. [View the event gallery.]
Vice President for Student and Enrollment Services Jennifer Borrero introduced CSI President Dr. William J. Fritz, who delivered the keynote address. Over the past three years, Dr. Fritz had chosen to focus on the College's legacies of institution, place, and mission. This year, he focused on the future by announcing CSI's new Strategic Plan, titled Opportunity to Ascend, placing emphasis on the College's continuing mission to advance the lives of its students, the careers of its faculty and staff, and the quality of life in the Borough. He stated that the new Plan "sets forth our institution's Mission, Vision, and Values along with six major Strategic Priorities, with underlying goals that will guide our future for the next five years."
Those Strategic Priorities include: Student Success, Global Engagement, Borough Stewardship, Destination Campus, Scholarship-Driven Education, and Resource Management.
While discussing the significance of "Destination Campus," Dr. Fritz noted, "Our uniqueness means that we have a unique story to tell, one that can set us apart from all other colleges and universities. When you then add the great promise emanating from our other Strategic Priorities…Destination Campus makes sense and we can envision CSI as a preferred, first-choice institution for prospective students, as well as for faculty and staff."
After Dr. Fritz's remarks, CSI Assistant Vice President and Chief Information Officer for Information Technology Services and High-Performance Computing Center Patricia Kahn took the stage to emcee the traditional lighthearted recognition ceremony for full-time employees who were celebrating service anniversaries in five-year increments. She also introduced CSI Provost/Senior Vice President for Academic Affairs Gary Reichard, who joined her on stage for the festivities.
The recognition ceremony culminated with a celebration of the College's first 50-Year employees, Alan Benimoff, Lecturer in the Department of Engineering Science and Physics, and Peter Keil, Professor in the Department of English. A third 50-Year employee, Stanley Zimmerman, Senior College Laboratory Technician in the Department of the Library, was unable to attend.
Convocation 2017 concluded with the College's annual holiday celebration in the Center for the Arts Atrium, giving the entire College community a chance to relax, mingle, and enjoy some tasty offerings.