More than 400 people filled the Center for the Arts Williamson Theatre to capacity Oct. 16 to watch candidates for New York's 11th congressional district debate in the run-up to midterm elections on Nov. 6.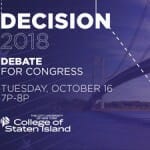 "Tonight's debate, which will potentially have significant impact upon the future of the 11th Congressional District and Staten Island, is taking place right where it belongs – at the borough's only public institution of higher education – the College of Staten Island," President William J. Fritz told the audience before the candidates took the stage. "We're getting used to these types of debates and serious conversations – we've done several over the past few years."
The College of Staten Island hosted the debate, which was co-sponsored and aired live by NY1. NY1 Political Anchor Errol Louis moderated and NY1 Political Reporter Courtney Gross and Senior Opinion Writer for the Staten Island Advance, Tom Wrobleski, served as panelists.
An energetic debate ensued and it was apparent that both Dan Donovan, the Republican incumbent, and his challenger, Max Rose, Democrat, had their supporters present. The audience
also included elected representatives from both sides of the aisle, including State Assembly Member Nicole Malliotakis and New York City Council Member Debi Rose.
Beyond a few heated attack lines, however, the debate also reflected that each candidate respected the other. Asked to cite a quality he admired in his opponent, each responded sincerely.
Donovan thanked Rose for his military service, while Rose said he admired Donovan for being a dedicated father.
The full debate, broadcast live by Spectrum News NY1, can be seen online.