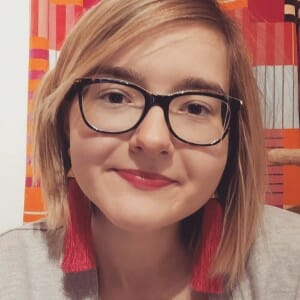 Amanda Tukaj, a Verrazano School Honors Program student, Jeannette K. Watson Fellowship recipient, and Journalism major at CSI, has recently been accepted into Columbia University's Graduate School of Journalism for Fall 2019.
Commenting on her recent acceptance, Amanda said, "I am extremely excited to have been accepted into the Columbia School of Journalism. I put a lot of work into my application and have been trying to better myself not only academically as a student, but also professionally and personally over the last four years. I've been aspiring to become a journalist since I was about nine-years-old, so having been accepted into one of the most prestigious and longstanding journalism schools in the country is an honor. It all feels a bit like a dream still."
While pursuing her degree at CSI, Amanda has engaged in initiatives to further her writing by composing profiles of former students for features in the College of Staten Island Alumni Newsletter. Amanda has also complemented her degree with a minor in Political Science, as her future goals include addressing issues surrounding bias in news reporting.
As a Watson Fellow, Amanda interned in the United Kingdom last summer for Reporters Without Borders, an international organization that advocates for freedom of information and the press. She has additionally interned at the Gotham Gazette in Manhattan, where she gained experience writing and publishing articles regarding New York City and State policy issues.
Recalling her academic career at the College, Amanda remarked, "My time at CSI has been very valuable to me. If I were not a student of the Verrazano Honors program, I don't think I would have had the chance at the number of opportunities I've been given. Thanks to the resources available at CSI, I was able to make my four years here meaningful." She also noted her Watson internships, and added, "I think having those experiences on my résumé really set my application apart and gave me a chance."
Looking to the future, Amanda stated, "After I complete the MS program at Columbia and graduate, I plan to work for a media organization in the city for either print, broadcast, or digital journalism. Ideally, I'd want to write about international politics, but I'm open to exploring a lot of different media fields and seeing what comes out of that. I don't necessarily have one singular 'dream job'. I think it's important to be flexible and to adapt when it comes to jobs in journalism because it's undergoing a great deal of change at the moment. Some might argue 'journalism is dead', but I don't think so. I believe the way in which we go about producing and distributing our media is simply changing. I know Columbia will prepare me for those changes, and I'm looking forward to learning as much as I possibly can."