The College of Staten Island has announced a partnership with EICAR, The International Film & Television School, based in Paris, for a transformative filmmaking experience for students that is set to take place for the first time this summer. The program will see a group of students from the College of Staten Island and other schools in the United States, spending nearly a month in Paris at EICAR, working on a film project and earning credit toward their degrees. Students from EICAR will make a return trip to New York City for an in-depth study into U.S. media and filmmaking in the summer of 2024.
"What makes this partnership an exciting and rewarding opportunity for students is that CSI is working with a fully operational film school that hosts a broad range of French and international students," said David Gerstner, Professor of Cinema Studies in the CSI Department of Media Culture and program leader. "By partnering with EICAR, we are making available to CSI and CUNY students a unique opportunity to make film not only at an excellent film school, but students will be making film in Paris. And Paris is cinema! By making film there, students will have a once-in-a-lifetime experience."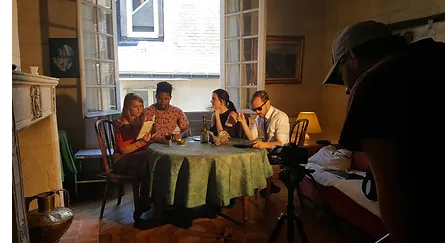 Gerstner, who has taken groups to France before for filmmaking experiences in 2016 and 2018, first visited with EICAR in 2006, at the time a small private institution in France that has since grown exponentially in recent years as one of the world's finest instructional filmmaking institutions. EICAR facilities, located just outside Paris's 18th arrondissement, are complete with studio spaces, soundstages, production facilities, classrooms, editing facilities, prosthetic and makeup labs, and screening theaters.
Director of the CSI Center for Global Engagement Stephen Ferst visited most recently with EICAR representatives and took in the advancements made by the French filmmaking school, and he and Gerstner have since worked hand-in-hand with EICAR Head of Development Yannick Tremblay to fortify the exchange program over the past year for launch this summer. Gerstner, along with CSI College Lab Technician and Media Culture liaison Mitchell Lovell, hopes to accompany approximately 15-18 students this summer on the trip. Students are selected for the program via an application process, and while some spots still remain open for the July program, most students have been selected to participate from a broad range of institutions, including CSI, St. Francis College, the University of Southern California, and Fierstein Graduate School of Cinema at Brooklyn College to name a few.
Students in the program attend morning classroom-style lectures at EICAR, followed by afternoon workshops and production work, ending the day with evening film screenings. This course work takes place from Monday through Thursday, with Fridays and weekends reserved for film shooting and enjoying the rich, cultural, filmmaking history Paris has to offer. The collection of students will work on a film project that draws upon the methodological approach in the 1962 French film Chronique d'un été (A Chronicle of a Summer).
"Jean Rouch and Edgar Morin's film provides a template for how we situate ourselves in Paris. It's a documentary that takes to the streets of post-war Paris and asks Parisians, "Are you happy?" It is something of a sociological study that takes the cultural temperature of a place and time," explained Gerstner. "In using the film as our template, students immerse themselves in the actual events taking place in France at the time, and engage Parisians with their thoughts on the contemporary situation. What is important, however, is that since the first week of classes involves an intense workshop period, the film can evolve in many unanticipated ways. It's the students' experiences in France that give shape to the film they make. Our first film from 2016, L'été en suspens is a very good example of how this type of filmmaking unfolds."
Students participating in the program will be hosted by MICEFA, Paris's official exchange program for students. The students will live in apartment-style quarters with one another, attend an orientation, and have social activities planned during their stay. For Gerstner, the experience will combine an amazing opportunity to study and practice filmmaking, while also building a network of professionals that can continue to work collaboratively in the States.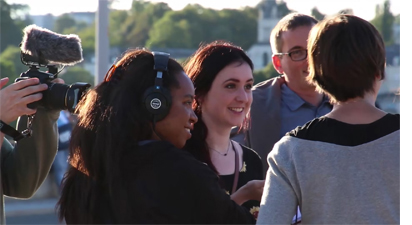 "To this day, our cohort from the 2016 and 2018 Filmmaking in France program maintains fond and strong memories of their time in France. I still have close relationships with those students who regularly keep me informed of their careers," Gerstner shared. "One student, Lauren McKenna (aka Lauren Louise) is now completing a documentary on the history of women and the beer industry. The intensity of making a film in three weeks in which students from EICAR informally join us, as well as the friends students make at social events in Paris, opens the door for long-term friendships and career possibilities. To have studied abroad is an amazing element to add to one's résumé. I can't underscore enough how valuable a course such as Filmmaking in Paris is for a student's future career."
This summer's experience is just the opening round of study abroad activity between CSI and EICAR. Tremblay and his team at EICAR are excited to not only host students from the U.S. but to also give EICAR students the chance to take in filmmaking study in New York City in the summer of 2024. He hopes it allows students from France to understand the U.S. media landscape and filmmaking production standards, attend Broadway soundstages, and meet with executives to learn to make a proper pitch, and for these students to refine their command of the English language.
"This partnership is indeed a great opportunity for both American students and our students," said Tremblay. "We look forward to welcoming them, offering them our facilities, and giving them the experience of a summer in France, making this experience unforgettable."
Tremblay expressed that this multicultural venture is dear to the values of EICAR, which welcomes more than 200 international students to its campus each year. "These exchanges are always exciting and enriching," he said. "It is always interesting to be confronted with different ways of doing things, different ways of thinking, different ways of acting, different cultures. Our students in 2024 in New York will also have the same expectations. Traveling shapes people and this openness to the world will make people better, which is ultimately the goal of our schools and universities."
Together, it is hoped the partnership can last for future classes to enjoy, part of a lasting cooperative project and one of the most transformative filmmaking study abroad programs in the world.
"We expect this partnership to allow our aspiring filmmakers to engage in the development of the filmmaking process from start to finish, understand the underlying history and theory of film, develop new knowledge and expertise in the Parisian and New York filmmaking environments, and hone their craft using state-of-the-art equipment," said Dr. Ferst. "We expect this partnership to bring benefits to faculty and students for years to come through joint projects in theory, research, and film production. It isn't every day that we get to launch a new program that holds such promise for students. All study abroad experiences are transformative, and this experience provides our students with opportunities that would have been otherwise closed to them."
To find out more about EICAR, visit their Website. See the short film below for a deeper look into some of the facilities EICAR has to offer.
To find out more about the CSI-EICAR partnership, and to learn how to apply for one of the selective study abroad opportunities, contact David Gerstner (david.gerstner@csi.cuny.edu) or Stephen Ferst (stephen.ferst@csi.cuny.edu).