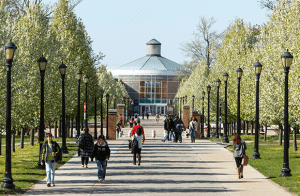 The College of Staten Island has received a $7.5M cash gift from Class of '65 alumni Lucille and Jay Chazanoff to benefit the School of Business. The gift is the largest individual donation ever made to a nonprofit within the Borough of Staten Island. With the potential to dramatically transform the work of the School, the Fund will be used to support the Lucille and Jay Chazanoff School of Business, including accreditation pursuant to the Association to Advance Collegiate Schools of Business (AACSB) – an international organization that is the preeminent accrediting body for business schools in the United States. There are 845 business institutions in 56 countries and territories that have earned AACSB accreditation.
The income generated by the Fund will support a wide range of objectives, including retaining faculty, many of whom have garnered national recognition as Fulbright Scholars, National Science Foundation grant recipients, and National Academy of Science expert panel members. CSI Business faculty hold positions on journal editorial boards, occupy leadership roles in professional organizations, and consult to federal, state, and local governmental agencies.
The College will also use this endowment to undertake a well-defined series of strategic program improvements that will significantly strengthen both CSI and the Lucille and Jay Chazanoff School's national standing and improve student success.
College President William J. Fritz commented that "the Fund will greatly augment the effectiveness, impact, and reach of our School of Business, providing levels of instruction and excellence that were once only imagined. In addition, it exemplifies the power of personal legacy through private philanthropy, which strengthens our College and, ultimately, our community by giving us an Opportunity to Ascend consistent with our Strategic Plan. Lucille and Jay are part of the fabric of this Island, and we are deeply grateful for their support of the School of Business and the College of Staten Island.
Founding Dean of the School of Business, Susan L. Holak, remarked that "we are exceedingly grateful for this generous, transformational gift that will provide expanded opportunities for experiential learning and student success; support faculty hiring, retention, and scholarship; and raise our level of community engagement. The Chazanoff CUNY Fund demonstrates confidence in our School's mission and programs, while affording us the flexibility and capacity to innovate at a faster pace. Lucille and Jay Chazanoff are exemplary alumni, exceptional members of our community, and generous philanthropists. We are immensely proud that our School will bear their name."
The donors, Lucille and Jay Chazanoff, stated that "it is an honor to have the opportunity to support the School of Business, and the College of Staten Island. We met at Staten Island Community College and the education we received there gave us the foundation to launch successful careers and lives. We are proud to pay it forward to future students with the hope of giving them greatly enhanced career opportunities so that they may follow in our footsteps."

Lucille and Jay Chazanoff met while attending classes at Staten Island Community College, a predecessor of CSI. They are longtime benefactors of the College of Staten Island and the community at large. Previously, they established the $100,000 Jay and Lucille Chazanoff '65 Endowed Scholarship Fund that provides support for full-time Business majors. Their philanthropy within the community includes the establishment in 2004 of the family-run Carmine and Robert DeSantis Charitable Foundation, named after Lucille's late brothers. The Foundation, whose motto is "one child at a time," assists children with special needs on Staten Island, providing more than $1M in support to date. In addition, the Chazanoffs are the lead benefactors of the JCC of Staten Island-sponsored Lucille and Jay Chazanoff Sunrise Day Camp, a free camp for children affected by cancer and their siblings.
Lucille, also a graduate of Pace University, worked as a CPA in the international accounting firm Arthur Young & Co. for four years, before joining the National Broadcasting Company (NBC), eventually rising to the position of Vice President and Controller. After a seven-year career with NBC, Lucille returned to her Staten Island-based family business, Royal Press, serving as COO until her retirement in 2012. Upon returning to Staten Island, Lucille began to take on leadership roles with various nonprofit organizations, including the Visiting Nurses Association and Meals on Wheels, which culminated in her being acknowledged as a Staten Island Advance Woman of Achievement in 1994. Lucille served on the CSI Foundation Board of Directors for 12 years, including as the Founding President of the Board of Directors (1992-1994) and remains active on the Boards of the Northfield Bank Foundation and Richmond University Medical Center Foundation, where she serves as Treasurer.
Jay also earned his Bachelor's degree from Pace University and an MBA from Long Island University. He began his career as a CPA at the international accounting firm Ernst & Ernst, prior to joining a young publicly traded financial services company in 1973, where he rose to become a senior executive over a 20-year term as the company grew into Fortune 500 status. After managing the company's corporate restructuring as the COO and President in the early 1990s, he began his second career as an entrepreneur by co-founding a technology-based claims management company to provide services to the corporate reorganization industry.  The company grew to become the nation's largest claims administrator and Jay oversaw the company's successful sale to a publicly traded company in 2003. In 1997, Jay also became a partner in Pembroke Companies, Inc., a commercial and residential real estate investment, development, and management enterprise. Over the years, Pembroke Companies, Inc., has been actively engaged in the real estate industry and currently, among its various projects, serves as an operating partner with The Blackstone Group, managing a large, multifamily real estate portfolio. Jay has served the Staten Island community extensively, notably as a representative and Board member of the former St. Vincent's Hospital of Staten Island, as part of the team that brought cardiac surgery to the Borough, also serving for two years as the Vice Chair of the Board of Directors of The Heart Institute. He is currently the Vice President of the Jewish Community Center on Staten Island, where from 2004-2006, Lucille and Jay co-chaired a $40M capital campaign. Jay has also served as a member of the Board of Directors of the College of Staten Island Foundation since 2013, and is slated to join the UJA-Federation of New York Board of Directors this July.