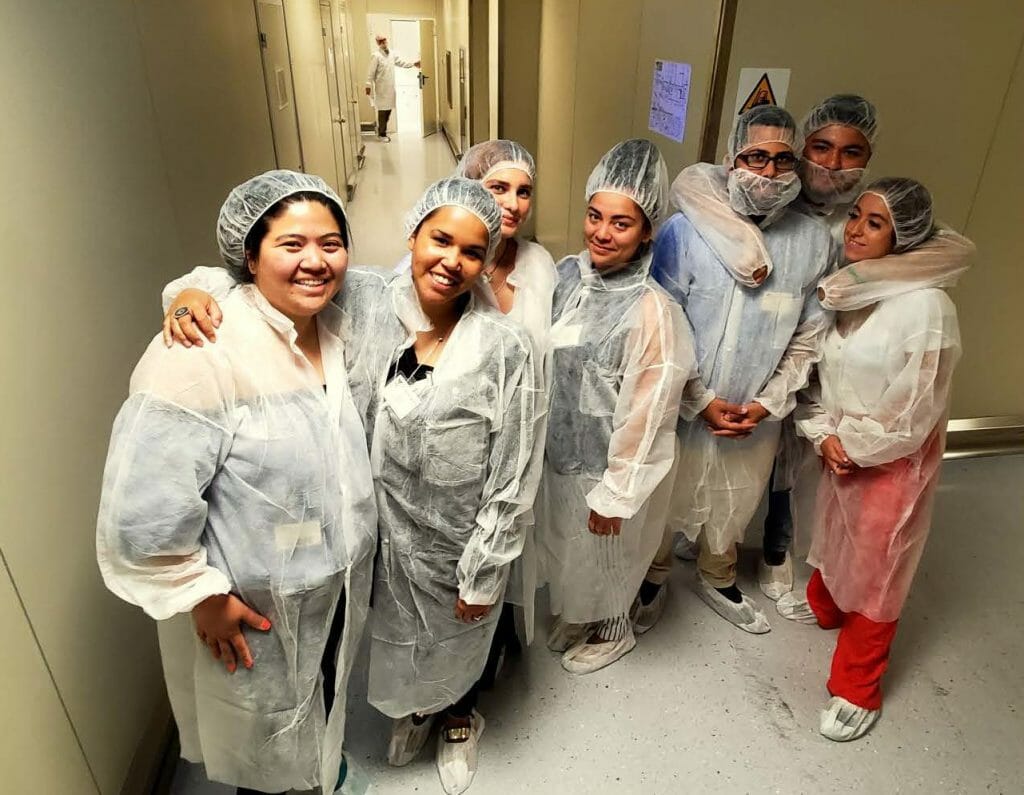 In June 2019, a group of 13 international business students from the College of Staten Island/CUNY (CSI) experienced firsthand the challenges and rewards of doing business in Florence, Italy.
The group, all students in the Lucille and Jay Chazanoff School of Business at CSI, spent nine days in the Tuscan city, visiting a host of businesses from the pharmaceutical sector to fashion design, from high-end automotive cross-marketing to wine production. These were complemented with a variety of lectures ranging from the development of accounting in Italy to online marketing, managing across cultures, and how to ensure employees embrace a corporate culture.
The itinerary also included tours of some of Florence's signature visitor attractions such as the Uffizi and Accademia art galleries. And there was even a little "down time" at a hands-on cooking class that was as fun as it was instructional.
The program was coordinated in conjunction with Florence's Lorenzo de Medici Institute, which offers a vast array of courses for students of all ages, ranging from international business to language and culinary arts. The participating CSI students prepared for the trip during the spring semester with classwork, readings, and other exercises, and they will receive academic credit toward their degrees.
"This was a once-in-a-lifetime experience for the students to experience some of Italy's leading manufacturers and brand leaders such as Ferragamo and Ruffino," said Professor Alan Zimmerman, who has organized and led eight similar tours to Italy and Ireland for CSI business students. "Not only did they meet with senior management, but they were able to learn how Italy has established a reputation for innovation and style and, in some cases, they were invited to observe production." To this point, the students toured Menarini Group, a pharmaceutical company headquartered in Florence.
Professor Zimmerman noted that the chance to experience another culture was a major incentive for the students to join the tour. CSI Adjunct Professor of International Business Bill Serrao also accompanied the group.
The trip was a milestone for CSI, since the participants included a student from the AHRC NYC Melissa Riggio Higher Education Program. AHRC NYC is a non-profit entity dedicated to supporting children and adults with intellectual and developmental disabilities throughout New York City. "Our student and his companion have returned from a trip that will last with them forever," said Ife Okoh, AHRC NYC Program Director. "This trip marks a space in the history of the program and is a true testimonial for our partnership with CSI."
"This was a wonderful opportunity for all of us," said student Emily Colon (junior; Management major) on the final evening of the tour. "We were able to experience a wide range of businesses and learn as one. I will remember it all of my life!" Other members of the group commented that the tour was not only an excellent opportunity to observe how one small country can compete on a worldwide basis in many business sectors, but also that the experience of the Study Abroad week will certainly enhance their résumés and work search.
Research is already underway to plan the next overseas trip for the College's business students, likely to take place during the summer of 2021.
By Warrick Bell