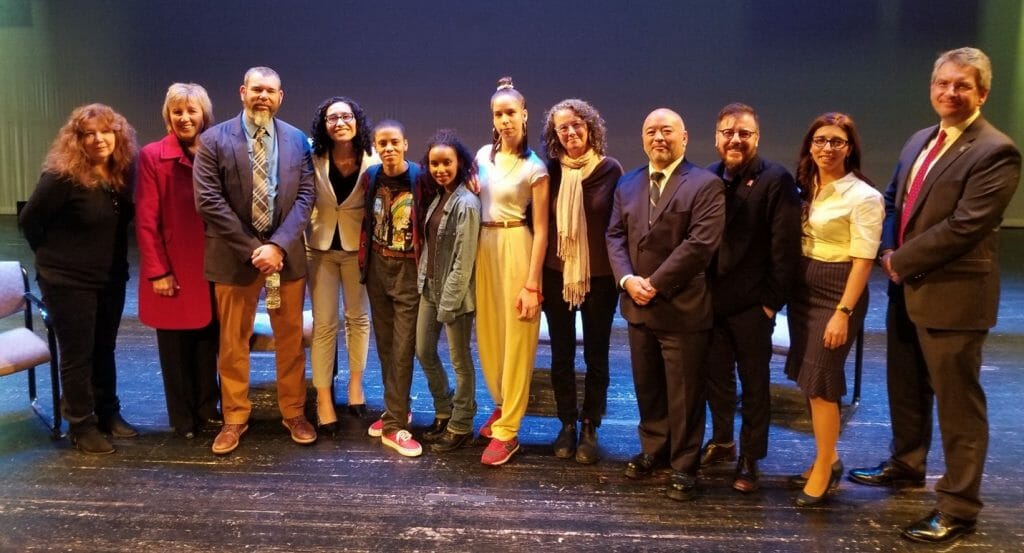 On November 26, 2019, CSI hosted a screening of Personal Statement: an Emmy-nominated feature-length documentary about three high schools seniors determined to get their entire class to college, while struggling to get in themselves.
The screening was followed by a panel with Director/Producer/Cinematographer Juliane Dressner and two of the film's featured subjects and students, Brooklynites Christine Rodriguez and Karoline Jimenez.
Approximately 200 of CSI's students, faculty, community partners, and staff were in attendance.
Dressner noted that the original intention of the film was to feature College Access Research Action (CARA), a NYC research and training institute whose mission is to ensure that first-generation college students, low-income students, and students of color have the knowledge and support necessary to enroll and persist in college.
One of the many ways CARA achieves its mission is through Right to College: a peer-to-peer mentoring model that trains 11th and 12th graders as Youth Leaders, to support their peers through the post-secondary exploration and college application process.
Karoline and Christine were working as Right to College Youth Leaders when they were recruited for the film.
Karoline, who is of Dominican heritage and an LGBTQ advocate, endures harassment for being a lesbian, and perseveres through the struggles of an abusive alcoholic parent. She confides to her guidance counselor in the film, "How do you endure harassment at school when you are awoken at night by a shouting, drunk dad?"
At the panel, Karoline explained that students like herself feel they "don't belong in college." She pointed out the need for a community support system, and that the documentary builds an awareness and solidarity among students; "now they know they are not alone…don't be afraid to speak up."
Karoline ultimately graduated from Borough of Manhattan Community College (BMCC) with her Associate's, and is now finishing her Bachelor's at SUNY New Paltz.
Christine faced a different set of challenges, stating in the film, "I grew up in a family where girls are given less freedom than boys." While balancing CARA's Youth Leadership responsibilities, and the new and complicated tasks of her own college admission journey, we see Christine pleading with her mother to commit to a private college, versus a public university. Christine ultimately enrolls in, and has since graduated from, The New School. Though she was ranked third in her senior class in high school, she admits in the film feeling "unprepared" in her first year of college as well.
Christine's closing advice for high school students at the panel was, "don't procrastinate and ask questions in your first and second year of high school." The earlier you prepare, the more likely students are to overcome the national counselor-to-student ratio and gap, which is about 1 to 464.
Both Karoline and Christine also advocated for simplifying the enrollment and financial aid process, so it's easier for all students to go to college.
The panel ended with a thought-provoking Q&A, which deepened the conversation about the College's commitment to borough stewardship and student success. Dr. Ralph Peetz, Associate Provost, closed by saying: "What does this mean for us as a community… I think we have to be proud of what we do do right…I think everybody in this room will walk out of [this space] look at the next time you speak with a student, and pause, just one pause, before you answer. Let some of what you heard today reflectively inform your answer…I will certainly do that."
The panelists received praise and applause from the audience, which included Principal Deirdre DeAngelis and Principal Andrew Greenfield, from CSI's founding partner high schools in 30,000 Degrees, an anchor initiative for more equitable college access and completion for Staten Island's current students and future graduates.
After the event, Principal DeAngelis encouraged Karoline to start a DonorsChoose page. Karoline followed through, and subsequently secured enough funding to cover her tuition and books at SUNY New Paltz the following semester. The impact has propelled Karoline closer to completion; filling two systemic gaps with which first generation students are confronted: financing the cost of attendance and necessary expenses, and generating inspiration from community support.
Principal DeAngelis also worked with Julianne Dressner, to host a school-wide screening and professional development at New Dorp High School.
This event was hosted by the divisions of Academic Affairs, and Economic Development, Continuing Studies and Government Relations.
For more information about the film and related research, as well as resources to build issue awareness and student-led advocacy, please visit https://www.personalstatementfilm.com/ .
For an event recording of the panel discussion, please visit: https://drive.google.com/file/d/1Fs_asZaQIVvaA57lMF9fYu6AUbbdxH5x/view?usp=sharing .
By Angela Ramos and Crystal Montalvo