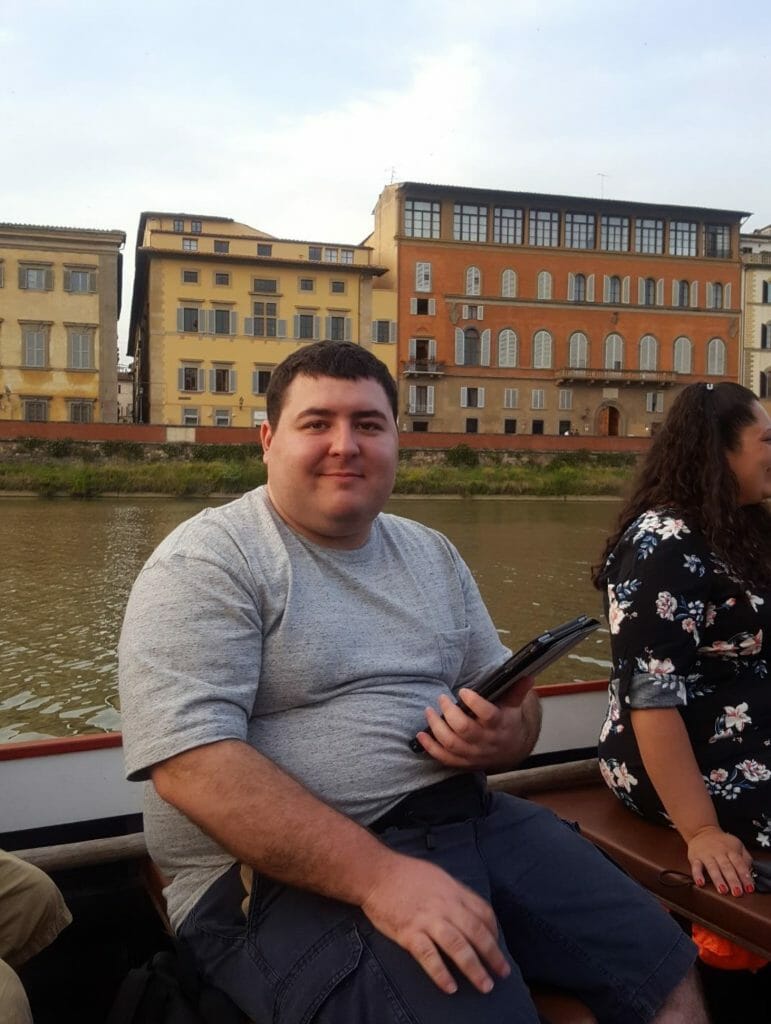 CSI's Office of Community Educational Engagement partnered with the Lucille and Jay Chazanoff School of Business and the Center for Global Engagement to send one of our students, James Devine, in the Melissa Riggio Higher Education Program (MRHEP), to study abroad in Italy during the summer of 2019. This unique and historic collaboration draws from our legacy of place, as an access institution, housed on the former grounds of the Willowbrook State School.
The MRHEP is a fully inclusive five-year college and alumni experience, and non-degree program for young adults with developmental and intellectual disabilities, offering intensive and comprehensive support for academic, civic, and professional growth. Under the umbrella of AHRC New York City, and housed in four CUNY campuses, MRHEP's mission is to support these individuals to build full lives. Students in the program participate in college courses, and engage in community service and co-curricular activities, and gain practical work experience through internships.
This past June, James Devine; Esteban Gonzalez, a MRHEP support mentor and CSI student; and 13 business students spent nine days in Florence, Italy learning about international corporate business practices, experiencing European culture, and visiting historic attractions. This trip was the first its kind for The City University of New York. Former program Director Ife Okoh said that the long-term dream was for "our student and his companion (to) have returned from a trip that will last with them forever. This trip marks a space in the history of the program and is a true testimonial for our partnership with CSI." The School of Business often organizes similar trips abroad, this one based with Florence's Lorenzo de Medici Institute, so students can experience a broad range of courses and get the most out of this enriching occasion.
While in Florence, James and the other students visited various businesses in the city to see how they are managed and function in the international market. Tours of manufacturers such as Ruffino and Ferragamo allowed the students to understand the complex works of global businesses in regard to production, management, and cultural practices. Among visits to restaurants and art galleries, there was a culinary class and an exploration of the area featuring the infamous Leaning Tower of Pisa.
James found the trip to be very influential, saying "I enjoyed the lifestyle of Italy and its great scenery. My experience in Florence was an interesting one. It was the most amazing place in the country of Italy and the culture of Christianity was very interesting."
We are hoping this successful trip leads to more partnerships with this program in the future. To learn more about AHRC, and the Melissa Riggio Higher Education program, please visit https://www.ahrcnyc.org/services/school/college/, and follow @CSIEngagement on Twitter for more on this and other student highlights.
By Noel Businelli
Edited by Crystal Montalvo