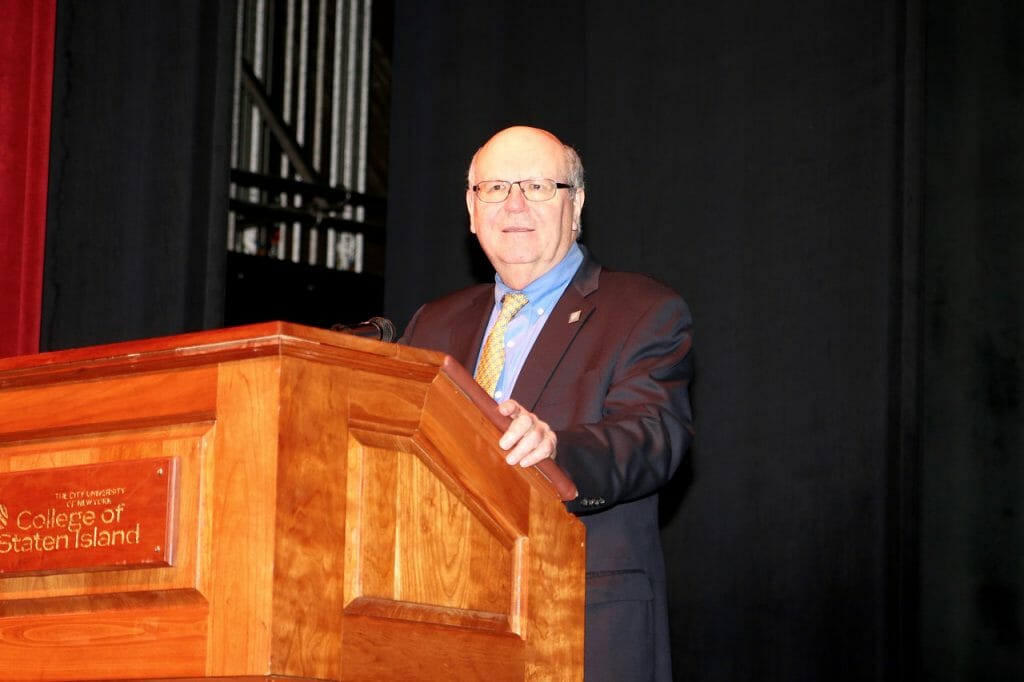 A near-capacity crowd gathered last Thursday in the Center for the Arts Williamson Theatre for Convocation 2019, an opportunity to learn about the state of the College over the past year, and to celebrate faculty and staff members who are celebrating service anniversaries in five-year increments. [View gallery]
College President William J. Fritz took to the stage after an introduction by Vice President for Student Affairs and Alumni Engagement Jennifer Borrero.
Near the beginning of his remarks, Dr. Fritz stated, "One of the reasons why I enjoy being President at the College of Staten Island is because we give people from all walks of life an opportunity to fulfill their dreams. Whether you are searching for a certificate, associate's, baccalaureate, master's, or doctoral degree, you can do it here. For the people we honor here today, ones who have demonstrated their commitment to the College through their years of service, I believe you also have a love for helping others achieve their dreams."
The President also waxed nostalgic, briefly touching on the themes of past Convocations, such as polar explorers who demonstrated how to embark on a new voyage, the teamsmanship of his favorite band, the Grateful Dead; the College's legacy trilogy (institution, place, and mission), and the institution's current Strategic Plan, Opportunity to Ascend. He then added, "Today, I want us to celebrate ourselves. Through modest resources we have done the impossible, we have functioned as a team, we have reached the poles, we have put on the equivalent of an amazing concert, we have honored our mission. We have earned the right to dream."
As a part of this celebration, Dr. Fritz reviewed some of the highlights of the past year, including the $7.5M gift from Staten Island Community College alumni Lucille '65 and Jay Chazanoff '65 to name the School of Business; CSI's selection for participation in CUNY 2x Tech, an initiative to provide valuable resources and support to meet the ambitious goal of doubling the number of graduates with tech degrees; the recently announced plans to develop the CSI Genomic Research Facility, which will allow faculty and students to conduct critical research on genetic variations in DNA that may cause the development or progression of diseases or conditions such as cancer, drug addiction, and autism; the NCAA's decision to accept CSI Athletics into its Division II; and Governor Andrew Cuomo's approval of a new Doctorate of Education in Community-based Leadership.
Dr. Fritz concluded his presentation with two videos that underscored the excellence of CSI students: a promotional piece for the College entitled "CSI: We Bring the World to You" from Media Culture students Cadem Francis, Rheana Galloway, Larentiy Sorokin, and Annie Tenantitla, under the guidance of Professor David Gerstner, Mitchell Lovell, and Lava Sorokin; and portions of the moving speech that Student Government President Fatu Amara delivered at the 2019 Celestial Ball.
In keeping with tradition, the President's speech was followed by another energetic and entertaining presentation by Assistant Vice President and Chief Information Officer for Information Technology Services Patricia Kahn in celebration of CSI faculty and staff members who were celebrating anniversaries of service in five-year increments.
The event concluded with a Holiday Reception in the Center for the Arts Atrium.