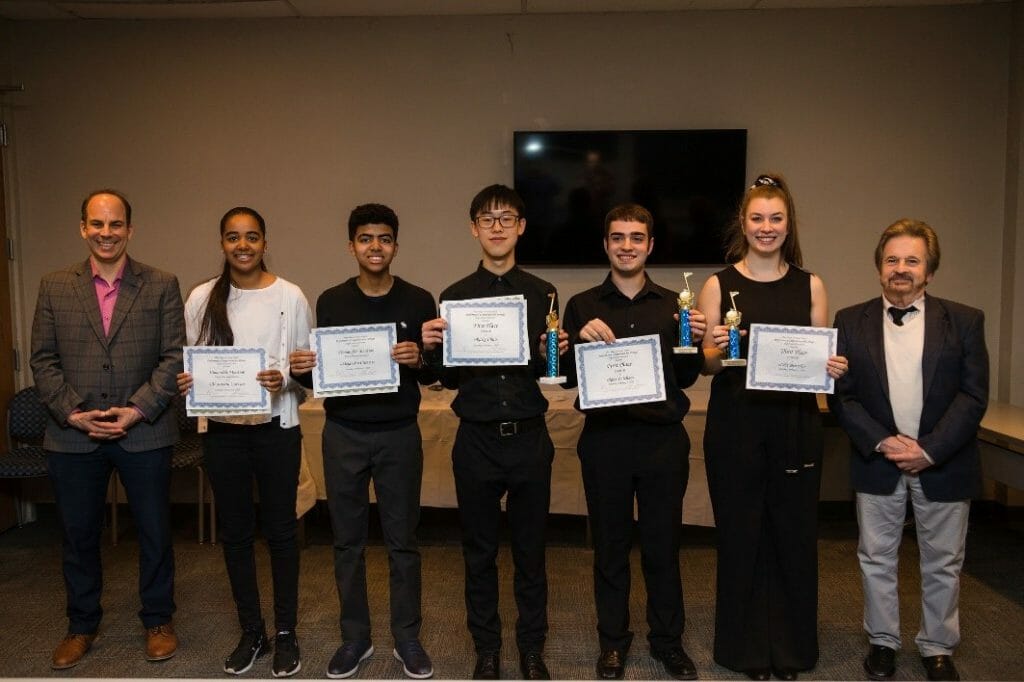 Young orchestra musicians from around Staten Island traveled to the College of Staten Island (CSI) for the fourth annual CSI Performance Competition for Strings. The only competition of its kind on Staten Island, the event featured the maturing musical talents of five high school students. This performance opportunity is the concept of Dr. Dan Auerbach, "These young people in the CSI competition show just what can happen if we can keep a young person's dream alive. My goal is to focus much-deserved attention on the wonderful musical talent in Staten Island and also on the hard work of area music teachers."
The competition celebrates the dedicated efforts of the students and their teachers, and supports middle school and high school strings students who are Staten Island residents.
The adjudicators for this year's competition were Dr. Dan Auerbach and Professor Edward Brown, both of the CSI Music Program of the Department of Performing and Creative Arts.
The talented student-performers included Lila Bruschi, student of Jesse Mills; Alexandra and Alejandro Cuevas, students of Yvette Wheatley; Jake Kitchen, student of Page Silverman; and Ricky Chui, student of Sanchie Bobrow.
Winners in the high school division are as follows:
Ricky Chui, first-place winner (sharing with Jake Kitchen), performed Bruch's romance for viola and orchestra; Jake Kitchen, first-place winner (sharing with Ricky Chui), performed Rebecca Clarke's viola sonata; and third-place winner, Lila Bruschi, performed Adagio and Presto from Bach's Sonata No. 1 for solo violin. Honorable mentions were given to Alexandra and Alejandro Cuevas.
This year's competition sponsors were:
Rustic Music Center, the Music Program of the CSI Department of Performing and Creative Arts, the CSI Administration, and an anonymous donor.
The upcoming May 17 orchestra concert at 3:00pm at the CSI Center for the Arts Springer Concert Hall will feature the middle school winner of the previous year's competition, Noshi Norris, performing Bach's A Minor Violin Concerto. In addition, the concert will feature various classical favorites. The orchestra will be joined by professional musicians from the New York area, who have both coached the kids during the semester and will perform with them side-by-side.
Left to Right: [Competition Winners with Judges] [ photo credit: Rolland Smith]
Dr. Dan Auerbach, Alexandra Cuevas, Alejandro Cuevas, Ricky Chui, Jake Kitchen, Lila Bruschi, Prof. Edward Brown