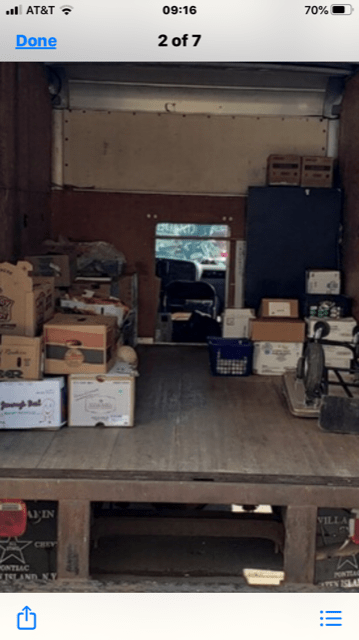 Throughout the COVID-19 crisis, staff from CSI's Office of Dining Services continued to serve the College's students and essential personal who remained on campus for as long as possible. As strict social-distancing rules, announced by Governor Andrew Cuomo, necessitated the closure of the College's Dolphin Cove residence halls on March 27, there was a surplus of used food. Robert Kee of the Office of Student Life, who also manages the College's food pantry, sought out SI Project Hospitality and coordinated an effort to donate the surplus to the local charitable organization.
On Wednesday April 1, 2020 the Reverend Terry Troia and an assistant from SI Project Hospitality arrived at the College's loading area where they were greeted by Kee and Jodi Merendino of Dining Services. SI Project Hospitality received more than 50 cases of fresh produce and dairy items from the College, which will be used to ease the growing food insecurity among community members in need.
CSI President William J. Fritz noted that "this is but one example of the College's commitment to Borough Stewardship, one of six Strategic Priorities of CSI's Strategic Plan, Opportunity to Ascend, in addition to possibly serving as a site that will provide medical support to the Island in the midst of this crisis. Through this pandemic and beyond, the College will continue to work tirelessly to not only provide our students with an affordable, high-quality education, but we continue to strive to bolster the economic, social, and cultural needs of all Staten Islanders."
Merendino reports that "We will continue to remain in contact with SI Project Hospitality and will organize additional donations as they become available."
According to its Website, "It is the mission of Project Hospitality, Inc. to reach out to community members who are hungry, homeless or otherwise in need in order to work with them to achieve their self-sufficiency — thereby enhancing the quality of life for our community. Project Hospitality seeks to realize its mission both by advocating for those in need and by establishing a comprehensive continuum of care that begins with the provision of food, clothing and shelter and extends to other services which include health care, mental health, alcohol and substance abuse treatment, HIV care, education, vocational training, legal assistance, and transitional and permanent housing.
By Terry Mares