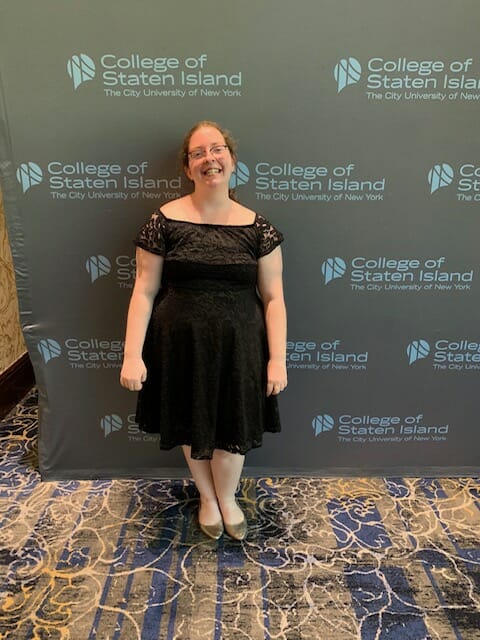 Natalie Taub had a feeling it was going to be a good year. Fresh off of graduation, the student leader had applied for and received a CUNY Counseling Assistantship Program (CUNYCAP) position in the Office of Student Life, an area with which she was very familiar as an undergraduate at CSI. Things were going great until the COVID pandemic hit, closures started, and the Student Life office was thrust in a completely new direction. At first just a general assistant, Taub is now working side-by-side with staffers like Director of Student Life Carol Brower and Associate Director Debi Kee to revamp Student Life offerings in this whole new, virtual world.
"Before the closure, I was helping Student Life primarily with CLUE programming, entering names into databases, managing the monitors in the Campus Center, and although I was doing some social media, it's definitely not as much as I am doing now," said Taub. "At Student Life, we had a lot of communication with students every day in person, and when we lost that, we had to refocus getting that back through our social media pages and I got to work a lot more with it."
Student Life has long had an online presence, but the loss of in-person classes and campus closures put a heavy weight on the unit to transition their operation to the virtual world…and fast, and there's where Taub felt she could fill a void.
Brower understands first hand just how important being virtual is now in the digital age. She attests that although the in-person student involvement never fully wanes, more and more students aren't just amenable to online programming, they depend on it, and the COVID pandemic brought that more into light. "We're learning that there is less and less tolerance for students to sit in a confined space for long stretches of time, so we are looking at connecting with students digitally in short waves, learning from them what works and what doesn't. We dove head-first into the measure and Natalie has really helped us catch up on the social media front."
A student herself, Taub was a Sociology major with a minor in Disability Services during her time at CSI, and she recognizes the importance Student Life was to her. In today's world, being at home and attending classes at the same time may be new and exciting for some, but can also become monotonous and mundane if left alone. She contends that Student Life is offering opportunities for students to lend themselves to something other than what the typical classroom dynamic has to offer.
"I think just in terms of being more consistent with what we are doing and putting stuff out there more regularly has been the key," said Taub. "We're gaining more followers and more awareness, and our social media went from being something we weren't using a lot, to one of our main ways of contacting and messaging, and I'm proud of that."
One of Taub's first orders of business was to create an interactive routine, and a daily theme was created to stay on task. Examples include "Tips of Success Mondays," which discusses tips on how students can succeed during distance learning and how to stay on track, and "CSI Flair Wednesdays," a big hit, when faculty and students can show off their talent in front of the screen.
Students have appreciated the changes, too. Taub says she has seen a nice boost of activity on Student Life's social media pages across the board.
Student Clubs have also gotten involved. Recently, the Pre-medical Society held a COVID-19 Trivia Tournament, the Japanese Visual Cultural Club continued their popular anime film series, and the Black Women's Initiative hosted a virtual talent competition.
Turning things around digitally has come with its share of challenges of course, and a few have popped up for the Office of Student Life. Having to log on and account for presence at events, digital hosting, technical support and hiccups, and the marketing of some events come with added duties to which the office has had to adapt. Still, the program has done a great job, not one lost on College of Staten Island Vice President for Student Affairs Jennifer Borrero, who oversees Student Life as part of her vast division.
"I've been most impressed by how quickly the team at Student Life came together to support our students during this time," said Borrero. "They familiarized themselves with the technology much faster than I expected and they transitioned all of our events rather seamlessly."
With courses remaining online through the summer, Taub knows that her appointment as a CUNYCAP will continue in this same way for some time. She is completing her first year of the Graduate Program at Hunter College studying Special Education and plans to stay with Student Life next year if they will have her back. She contends that even though Student Life feels good about what it is doing in light of the pandemic and closure, there is plenty still to do, and the office is constantly brainstorming and developing new ideas.
If the future is anything like the present, then CSI students can take comfort knowing that Student Life will continue to meet and surpass their needs. ​​
By David Pizzuto