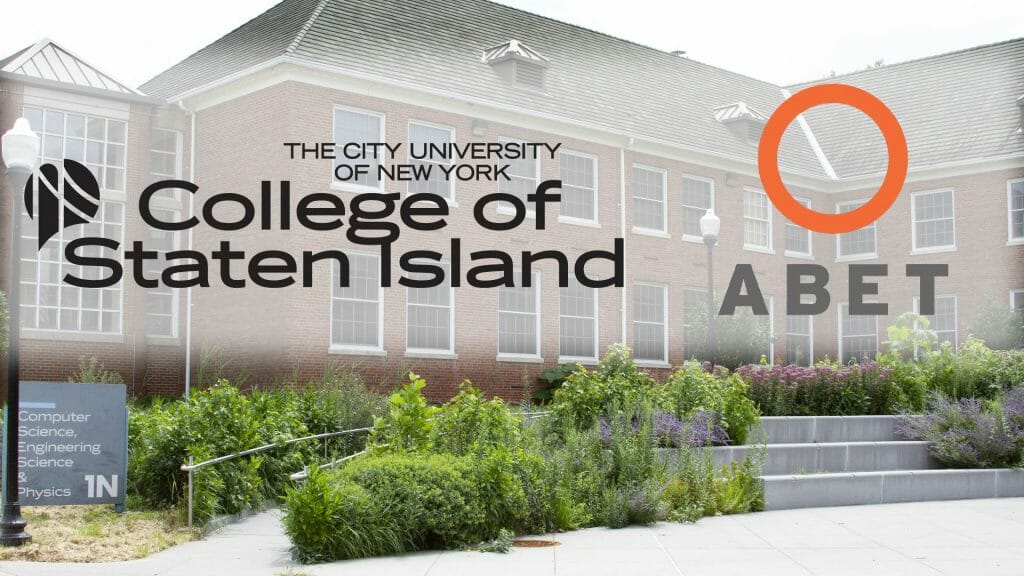 The College of Staten Island's Engineering and Environmental Science (EES) Department received great news this fall, earning reaccreditation with ABET. The organization's Engineering Accreditation Commission evaluated CSI's Bachelor of Science programs in Electrical Engineering and Engineering Science, based on the College's self-study and visit, and awarded reaccreditation until September 30, 2027.
Comprised of more than 2,200 members from industry, academia, and government, ABET is a non-profit, governmental organization that is a global leader of college and university accreditation that meets the standards in which professional engineers in the United States were held for licensure. ABET standards have become the baseline for quality STEM disciplines throughout the world.
"ABET accreditation is the highest technical accreditation in the field of engineering and technology and is awarded to the top programs in the nation and worldwide," said Neo (Neophytos) Antoniades, Chairperson of the Engineering and Environmental Science (EES) Department.  "We are extremely happy that re-accreditation went smoothly and validated our programs' excellence.  It reinforces our ability to train our students into the 21st century and to compete with the best engineering programs in the nation."
Reaccreditation through ABET customarily involves a thorough review of each program, which under normal circumstances happens during a three-day campus visit. The COVID-19 pandemic made the process unique this time around, according to Prof. Antoniades. "The normal site visits were performed online and over a longer period of time, which made the process a bit more challenging than what all parties were used to."
Still, CSI's commitments to academic excellence were on display when ABET's Engineering Accreditation Commission performed the online visits this past December. The Commission explored the Department's aptitude in eight different criteria: student performance and progress, educational objectives, student outcomes, continuous improvement, curriculum, faculty, facilities, and institutional support.
The ABET reaccreditation comes on the heels of two professors within the program earning high praise as well. Both Vinay A. Vaishampayan and Mark D. Feuer were named to Stanford University's list of the Top 2% of the world's researchers and scientists. The list, compiled every year, is based on standardized citation metrics developed by a group of scientists led by John P.A. Ioannidis, a statistician at Stanford University. It weighs a field of more than six million world-renowned scientists and researchers.
With reaccreditation intact, CSI joins more than 800 colleges and universities in 41 countries that bear the ABET accreditation mark. More than 175,000 students graduate from ABET-accredited programs each year.
To learn more about CSI's Engineering and Environmental Science programs, visit their Website.
By David Pizzuto