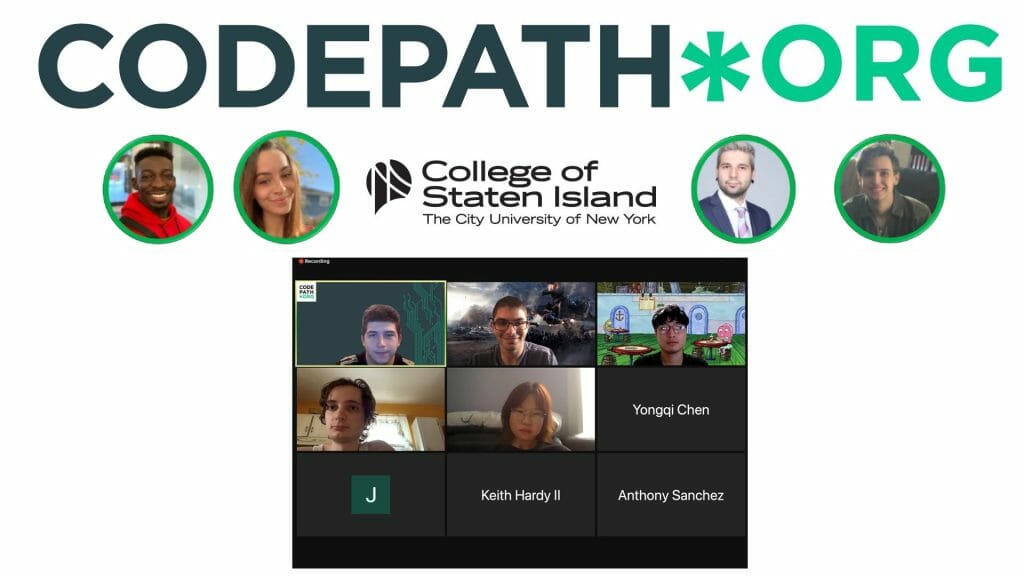 College of Staten Island students within the Computer Science discipline are getting a tremendous learning experience on campus, but thanks to a partnership with CodePath, a cluster of students are now exploring the discipline further alongside industry professionals and mentors.
A relatively new startup, CodePath is a non-profit organization that provides college students with free coding courses, mentorship, and career support that intends to prepare them for careers in technology. The organization is working with more than 50 colleges, including the College of Staten Island, principally working with underrepresented students in the tech industry to prepare them for next steps after graduation.
"CodePath's project-based curriculum is developed with industry experts, so students are getting a current look into what the industry is using today and what top companies are looking for," explained Kristi Nielson Brescia, CUNY 2X Academic Advisor in the Department of Computer Science. "The program is putting our students in direct touch with these tech leaders who are connecting them to industry, mentors, and internships. In addition, these courses are enhancing their CSI education and assisting students in building a portfolio to show future employers and add valuable skills to their résumé."​
The bridge with CodePath not only provides a great extracurricular experience for students, but is a valuable networking experience as well. CodePath collaborates with professionals from organizations like Facebook, Women Who Code, Spry Ventures, and Google, to name a few.
Alongside the instruction and guidance, CodePath also puts the achievements of its participants on display. Last year, CSI students Melchizedek Tetteh, Megan McNamee, Konstantin Novichenko, and Michael Venturi presented their iOS App Nintendo Switch Price Tracker at CodePath Demo Day, and among 80 teams, the CSI unit took home third place from a panel of judges that represented Visa, Reddit, Facebook, Stripe, and Instagram Engineering. It was a chance for the students to not only collaborate and earn the respect of the judges, but to also get valuable feedback on their coding and development.
Novichenko, who graduated in June, parlayed his experiences into a software engineer position at Microsoft and is also teaching CSC/ENS 446 – Computer Architectures at CSI. He says the experience was invaluable. "I found the experience to be incredibly beneficial," he said. "It was very hands-on, extremely useful, and best of all, it was free. It was a chance to learn everything you need to start developing and I really loved the competitive part of the program and the career fair, which put us in front of a lot of tech executives and hiring managers. It was a great networking tool, and I tell everyone I can to try and get involved with it."
Recent graduate Chukurwardo Umeaka, who is now a software engineer for Mongo DB, was responsible for bringing CodePath to the College. He is very proud of the partnership and what it is doing for some of his peers, allowing them to then teach what they've learned to other students on campus. "I learned a lot in CodePath," he explained. "As a class instructor, I trained in iOS development, which was so exciting because I had never built iOS apps before. I also learned how to efficiently plan out my software-building process, which is a great skill to have as a software engineer."
Like all good things at CSI, Umeaka sees the word-of-mouth advertising paying off, and bringing more-and-more students in touch with CodePath. "I have had classmates who took the iOS course speak positively about it to our fellow students and encourage them to take the course as well," he said. "It has been great to see some past CodePath students take over as the amazing class instructors."
CSI intends to keep the partnership with CodePath going and growing. Like Umeaka, students who are a part of the program, like seniors Joseph DeMario and Joseph Tooker, are bringing insight back to the campus as well. Both are holding seminars and tech talks with other students on campus on iOS and Android App development that takes place every Thursday during Club Hours.
DeMario, who is currently interning at MetLife, a connection he made through CodePath, agrees. "Originally I never saw myself as wanting to teach and I never thought of myself as a good public speaker, but CodePath gave me the opportunity to step outside my comfort zone and to apply what I've learned to others and I've enjoyed it so much," he said. "CodePath has come with a lot of perks like the app development instruction and the virtual career fairs that map you with companies that are aligned to your interests. It's a hands-on program that really prepares you for what to expect after college."
"CodePath is helping our students develop the skillsets that employers and recruiters are looking for," noted Nielson Brescia. "It is invaluable career-readiness and professional development for our students that encourages critical thinking, problem-solving, and working with diverse groups. It has opened up avenues for networking and connections that our students are taking full advantage of."
Students who want to get involved with CodePath can find information on their Website or can contact Kristi Nielson Brescia via LinkedIn.
By David Pizzuto