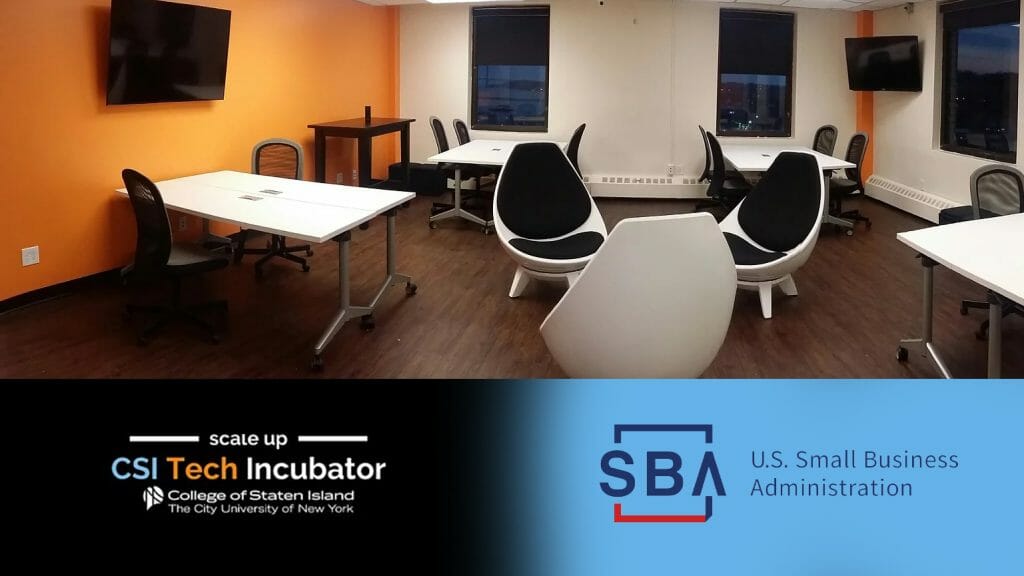 WASHINGTON, D.C. – In announcing the U.S. Small Business Administration Growth Accelerator Fund Competition and Small Business Innovation Research (SBIR) Catalyst competition winners, SBA Administrator Isabella Casillas Guzman noted the College of Staten Island Tech Incubator is a recipient of a $50,000 award to spur investment in underrepresented communities through the innovation economy at scale. The award is part of an annual national competition that had a total of $5.4 million in awards available.
The College of Staten Island Tech Incubator was selected as a winner in the program's Growth Accelerator Fund Competition (GAFC) program track, which included entries from accelerators and other incubators proposing targeted assistance to STEM/R&D entrepreneurs from underrepresented groups, including women, people of color, rural, and veteran entrepreneurs.
"I am proud to announce the winners of the 2021 Growth Accelerator Fund Competition and SBIR Catalyst prize competition. This year's cohort of winners emphasizes our commitment to equity. Our awardees have innovative plans to support underserved entrepreneurs, including women, people of color, and individuals from underrepresented geographic areas," said Administrator Guzman. "President Biden's Build Back Better agenda would enable SBA to ramp up this program even more, helping to reach thousands of innovators from underrepresented communities and geographic areas."
The $25 billion Biden-Harris Administration Build Back Better small business agenda would invest an additional $400 million in the GAFC to support start-up accelerators and incubators working with underrepresented entrepreneurs, Guzman noted. "In providing a template for the SBA to further scale its innovation programming, these awards also highlight the outsized impact local winners can have at home with increased resources and the expanded role of small businesses as hubs for job creation and economic growth in our country," she added.
All winners of this award support a broad range of industries including clean energy, supply chain resilience, and infrastructure. Many accelerators and incubators also work to expand the participation of innovation-focused small businesses located in HUBZones as well.
"It is quite exciting to have a winner of this highly selective national competition here in New York City," notedSBA New York District Director Beth Goldberg, who leads the nation's largest SBA field office. "With the wide range of startups and innovators who are working on cutting edge STEM/R&D ideas here in the Big Apple, this award will help provide additional access for these small businesses to technical support and capital."
Competitors were required to submit a presentation deck and a 90-second video to describe their overall plan for an award, including their work with targeted entrepreneur groups, experience with STEM/R&D, and implementation plans for the prize funds. Applications were judged by panels of experts from the private and public sector with experience in early-stage investment, entrepreneurship, academic, startups, and economic development.
"The College of Staten Island Tech Incubator is pleased to accept this award in support of its mission to develop a robust technology ecosystem on Staten Island's north shore, creating equity and opportunities for communities of color. As a result of this SBA award, what began, and still thrives, as a tactical and business development program for tech start-up companies will continue to flourish as a borough-wide resource staking its claim on innovation, supporting entrepreneurs, small businesses, community members, and students of all ages," said Jasmine Cardona, Executive Director of the College of Staten Island Division of Economic Development, Continuing Studies and Government Relations.
Nationally, the competition's 84 winners come from 48 states, Puerto Rico, the U.S. Virgin Islands, and the District of Columbia; they have been awarded based on their proposals for innovative ideas that inclusively support entrepreneurs researching and developing STEM-related innovations.   For a full list of winners, please visit www.sbir.gov/accelerators.
By Matt Coleman, SBA, New York District