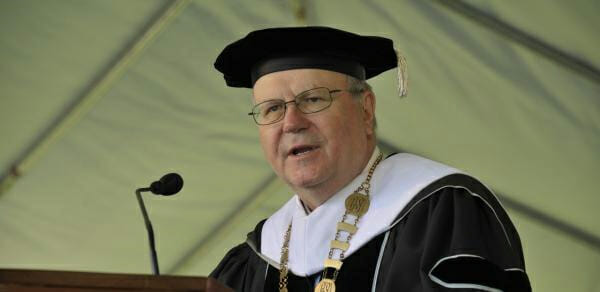 In an open letter penned to the College of Staten Island community, President William J. Fritz announced his retirement effective at the end of the calendar year. Having spent almost a decade as President, Dr. Fritz has been with the College since 2008, having started his career in Staten Island as the campus' Provost and Senior Vice President for Academic Affairs before beginning as President in 2012.
"Bonnie and I consider it an honor to have lived and served in the community; we treasure our friends and colleagues and want everyone to know that both CSI and Staten Island will be forever a part of our lives," he wrote on Wednesday. "I have spent one third of my more than 40 years in higher education at CSI and am proud of what it is becoming and am humbled to have served a role in its evolution."
Dr. Fritz highlighted many of the advancements made at CSI historically and during his time as Provost and President. As Staten Island's only public institution of higher learning, CSI embraced academic reorganization that included the introduction of academic schools on campus, including a new School of Business, a School of Education, a School of Health Sciences, and 11 new academic departments.
Dr. Fritz oversaw more than $250M in major construction, critical maintenance, and renovations at the College, securing over $40M in City and State support. A move to NCAA Division II intercollegiate athletics made CSI one of only two public institutions in New York State to earn the distinction, while the opening of CSI St. George provided better access to classes for many Staten Island residents. Together with neighboring institutions Wagner College and St. John's University, the 30,000 Degree Consortium was initiated to increase the number of residents with baccalaureate degrees by 30,000 by 2025.
Philanthropic support has also greatly increased under the leadership of Dr. Fritz. The CSI Foundation has approximately $22M in assets and a million-dollar surplus in unrestricted funds. During his tenure as President, CSI received the largest-ever gift to any not-for-profit on Staten Island, a cash gift of $7.5M for the naming of the Lucille and Jay Chazanoff School of Business, which now includes a planned supplemental gift of more than $1 million.
Dr. Fritz noted the role that the College has played on the Borough of Staten Island and the community that the College embraces each year. "We have amazing faculty, staff, and students," he said. "We take students from challenging backgrounds and send them to law school, to medical school, and to the best professional schools. Our students get jobs at top firms on Wall Street and serve the best not-for-profits. Even more importantly, on Staten Island, a borough of small businesses, almost everyone employs a graduate of CSI and nearly every family on the Island has a member who is an alum. We make students' dreams come true."
By David Pizzuto