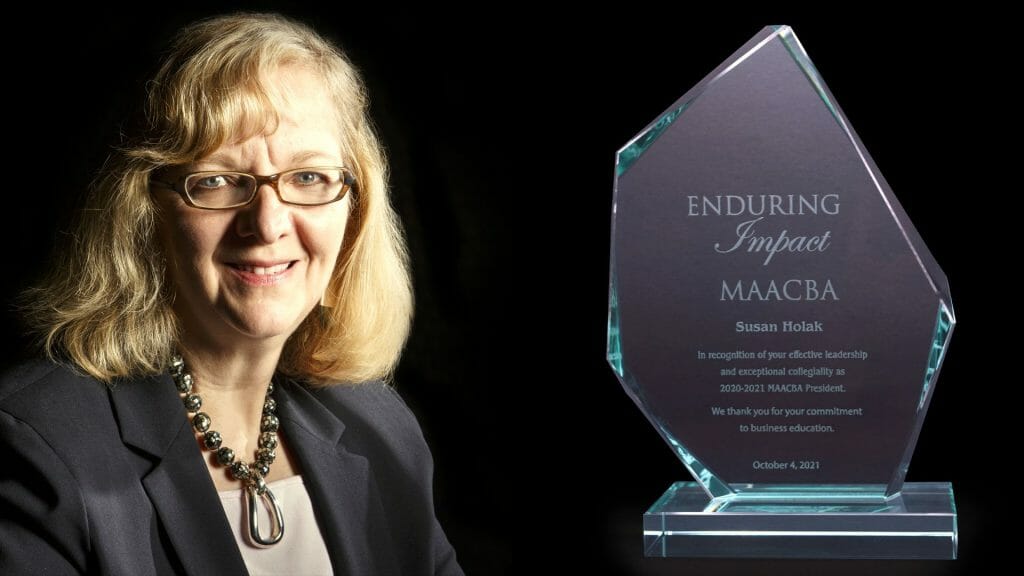 Founding Dean of the Lucille and Jay Chazanoff School of Business, Dr. Susan L. Holak, delivered opening remarks at the 71st annual conference of the Mid-Atlantic Association of Colleges of Business Administration (MAACBA) on October 4, 2021, as the culmination of serving as President of the organization for the past year. A member of MAACBA since 2015, Dr. Holak's address punctuated a year of challenges, resilience, and innovation for the organization and the more than 125 institutions that it serves and its members represent. The conference is usually held on the campus of a host business school; however, in both 2020 and 2021, the event transitioned into the virtual realm due to the COVID-19 Pandemic.
"MAACBA's annual conference continues the tradition of hosting our members in the region and providing a venue for deans, faculty, business leaders, and educational services to focus on the changing landscape for business education," said Dr. Holak. "In addition, MAACBA is dedicated to the continuation of its custom of organizing an annual teaching innovation competition and showcasing award winners. The annual conference concludes with the organization's formal business meeting."
Dean Holak was quick to cite the efforts made by the membership in helping shape new and innovative methods of instruction in the virtual and remote world. Having assumed the role as President of the organization's Board of Directors during the depths of the pandemic last October, Dr. Holak recognized many of the challenges that educators had faced, and the responses that had been catalyzed as a result. "We faced many challenges this year, including the changing role of business education post-pandemic, the future of work, new expectations for thought-leadership, how best to prepare students for the rapidly changing environment and their post-college experiences," she said.
"It has been an honor and privilege to work with such talented, dedicated leaders in the mid-Atlantic region," said Dr. Holak, reflecting on her year as President. "Together we benefit from the invaluable collaboration among business schools in the geographic region that spans New York, New Jersey, Pennsylvania, Delaware, Maryland, and the District of Columbia. The MAACBA organization dates back many decades with a legacy of promoting and improving business education. This year's conference theme, 'Reshaping Business and Society: The New Agenda for Business Schools,' spoke to this moment in the course of the pandemic, when institutions of higher education are pivoting, adapting quickly, and innovating for the future. My opening remarks were meant to remind the audience of MAACBA's long legacy, frame this year's conference theme and the timely positioning of the conference. We also acknowledged the many dedicated people who made our conference possible and are invaluable to the organization's planning and operations."
MAACBA's 2021 virtual conference, featured keynote speaker, Jacqueline Novogratz, CEO and Founder of ACUMEN, social entrepreneur, and New York Times award-winning author, who shared her experiences with impact investing, her role as a change agent, and her successes in addressing climate change and poverty around the world. Other sessions included industry panels on transitioning to a post-COVID environment, the future of work, teaching in new modalities, and preparing students for the new expectations of future employers. Tawnya Means, Assistant Dean for Educational Innovation and Chief Learning Officer at the Gies College of Business, University of Illinois, and Dr. Sharon Ryan Lydon, Associate Dean of Alumni and Corporate Engagement, Professor of Professional Practice and Supply Chain Management at Rutgers Business School – Newark and New Brunswick, organized an engaging interactive session focused on the future of teaching modalities and technology implementation, as business schools evolve post-COVID. Geoffrey Perry, Asia-Pacific Executive Vice President of the Association to Advance Collegiate Schools of Business (AACSB), presented on new business school accreditation standards and, particularly, the heightened importance of societal impact on the part of institutions.
While helping her peers navigate new landscapes in her term as MAACBA Board President, Dr. Holak made several initiatives her focus in 2020-2021, including the modification of board processes, calling attention to legacy and expanding the organization's repository and Website, advancing a focus on membership and infrastructure, and the importance of developing the conference theme and keeping attuned to it when framing the conference program and sessions.
Having been a part of the MAACBA organization almost since the formation of the Lucille and Jay Chazanoff School of Business, Dean Holak shared how her affiliation with the Board of Directors has helped her development as a leader at the College of Staten Island. "The opportunity and privilege to work with wonderful dean colleagues has yielded so many benefits. Our interactions as an experienced group of deans and academic professionals often focus on addressing issues of mutual interest regionally, nationally, and internationally," she noted. "We are a learning organization, and being able to share insights on accreditation and to discern and address issues of interest to the membership have been critical. I also believe that my participation in this organization and my tenure on the MAACBA Board of Directors have brought exposure to the Chazanoff School and CSI."
With her Presidential term now ending, Dean Holak will continue on the Board of Directors in 2021-2022 as Past President. She looks forward to remaining active in the organization, noting that "MAACBA provides an invaluable, meaningful set of connections, as it is large enough in terms of membership and geographic region, but more intimate than a worldwide organization like the Association to Advance Collegiate Schools of Business (AACSB)." Dr. Holak continued, stating that "You really get to know your colleagues well and have opportunities to share ideas and advice with them as fellow business school leaders. I look forward to transitioning to my role as Past President and the opportunity to continue collaborating with my fellow deans from institutions in the Mid-Atlantic region."
Dean Holak stresses the importance of professional development and growth, particularly as they inform her work on campus. Recently, for example, she pursued credentials related to Carbon Literacy Training and forming an entrepreneurial education ecosystem, and she believes that her experiences with MAACBA are another form of professional development that brings benefits to the Chazanoff School. "I am very proud of the strides that we have made since forming the School of Business. We coalesced as a faculty and staff, and started to develop and build an organizational structure, processes and procedures, and traditions starting in 2014. We were elated to take on the mantle of the Lucille and Jay Chazanoff School of Business in 2019, with the generous gift from our two alumni," Dean Holak explained. "We have so many exciting activities and opportunities, from new MS programs (Healthcare Management and Business Data Analytics) and new minors (Sports Management and Entrepreneurship), to co-curricular activities such as the growth of student clubs and the launch of certificates and credentialing, and of course, tremendous new initiatives such as Blackstone LaunchPad and our affiliation with the United Nations's Principles for Responsible Management Education (PRME) focusing on sustainability. We have a lot to look forward to alongside the ongoing extensive renovation of Building 2M and expanding alumni and community connections."
For more information on MAACBA, visit their Website. For more information on the Lucille and Jay Chazanoff School of Business visit their Website.
By David Pizzuto