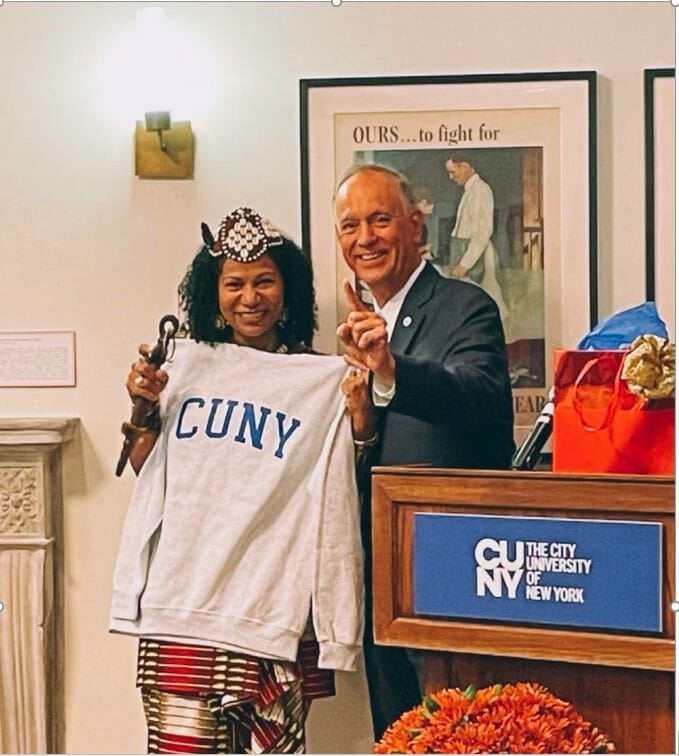 Her Majesty Queen Diambi Kabatusuila Tshiyoyo Muata of the Bakwa Luntu People in the Democratic Republic of Congo made a visit to New York City on Thursday to tell of her remarkable journey as a former City University of New York student at the College of Staten Island to her current standing as reigning Queen of her citizens in Central Africa.
The virtual conversation was attended in-person by CSI President Dr. William J. Fritz, Vice President for Student Affairs and Alumni Engagement Jennifer Borrero, and several student leaders, who met with Queen Diambi Kabatusuila Tshiyoyo Muata, took photos and exchanged stories, and heard the story of one of CSI's and CUNY's most accomplished alumna.
In her remarks, Queen Diambi Kabatusuila Tshiyoyo Muata spoke admirably of her time at the College of Staten Island and CUNY, where she learned many of the tools she needed to be an advocate for the Congolese people. She spoke of the importance of advocacy in our society today.  Her Majesty was crowned by the Bakwa Luntu Chiefs on July 15 2017, and invested and enthroned in Kinshasa by the Association of Congo Traditional and Customary Authorities on August 5, 2017.
Traveling across the globe, Her Majesty has sought meaningful friendships and alliances between her People and diverse communities. Her dream is to help bridge the divides among Africans across the planet, to reunite Africa, and to participate in bringing the vision of Africa as a safe haven for all.
As part of the welcoming ceremonies, CUNY Chancellor Félix V. Matos Rodríguez presented Queen Diambi Kabatusuila Tshiyoyo Muata with a New York State Assembly Citation, a commemorative medal, and CUNY apparel. It was a fantastic experience for the many in attendance.