CUNY Chancellor Félix V. Matos Rodríguez paid a visit to the CSI Willowbrook campus on the first Move-In Day at the Dolphin Cove residence halls for the new Fall 2022 semester.
The Chancellor was accompanied by CSI Interim President Timothy G. Lynch, and new Interim Vice President for Student Affairs and Strategic Initiatives Michel A Hodge.
Commenting on the visit, President Lynch said, "This is a wonderful day for the College and its students, as Dolphin Cove is, once again, welcoming residents back! It was exciting that Chancellor Matos Rodríguez was on hand to help us celebrate this large step toward getting back to normal, and that he had the opportunity to meet with some of our students and see some of the exemplary facilities that CSI has to offer."
During his time on campus, the Chancellor took a tour of Dolphin Cove, including a model dorm room, and he also spoke with students from a number of clubs and organizations in the Campus Center Green Dolphin Lounge. In addition, he had the opportunity to meet CSI mascot Danny the Dolphin, some Dolphin Cove student staff members, and the CSI Cheerleaders. One of the topics that came up during that time was COVID-19 and its challenges. Chancellor Matos Rodríguez noted that the pandemic, "involved a number of opinions on how to cope with the situation, and a lot of fear of what the future was going to bring." However, he mentioned one aspect that brought him hope: "I saw a lot of faculty and other people who were really going out of their way to make it work in an environment that people didn't know how to navigate." In addition, the Chancellor pointed to the successful vaccination efforts on behalf of the University as a source of pride. He also said that he's encouraged to see things getting closer to normal.
As for the first day of move-in itself, Spozmi Nouri, General Manager, Dolphin Cove – CSI Student Housing, said, "I feel like move in day went really well! We were super excited to have the Chancellor and President join us and welcome students to Dolphin Cove. We are always happy to welcome the Chancellor to Dolphin Cove. It was a great opportunity for the RAs and students to meet and get to know the Chancellor."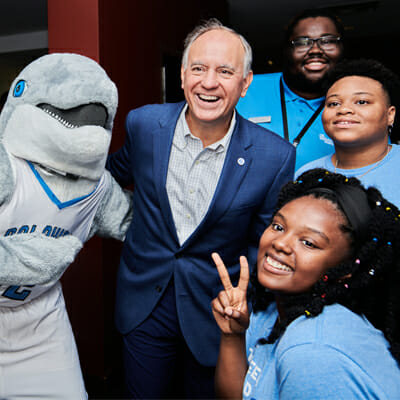 Nouri reported that move-in took place on August 23, the day of the Chancellor's visit, and 24. "Students have a seamless move in process," she added, "They complete a form that takes about five minutes online and then receive their keys and are able to move in." A total of 317 students were expected to arrive over the two-day period.
How did some of the students moving in for the first time feel about the experience?
Psychology major Brad Ajyei, noted, "It's been good. I'm from the City, The Bronx, so it's like a new environment. So, I'm liking it."
Another Psychology major, and member of the Dolphins Baseball team, Aidan Kielty, remarked, "It's good. I'm excited. It's a new beginning."
Trudy/Ann Strachan, a Business Management major, noted, "I'm excited because it's the start of something new, and freshman year."
Education major Gabriella Cammarano had mixed emotions. "I'm nervous and excited at the same time."
With the first Move-In day and the Chancellor's visit, the new semester started on a positive note with optimism that recovery from the pandemic will continue.
By Terry Mares