The College of Staten Island linked up with community partners, the Staten Island FerryHawks minor league baseball team, at the Staten Island University Hospital Community Park on Friday night for what was appropriately entitled CSI Night, meant to welcome the College of Staten Island community for a night of great company, great fun, and great baseball. CSI Baseball Head Coach Michael Mauro was the honorary Manager for the FerryHawks on the evening, one that saw the FerryHawks ultimately fall to the Lancaster Barnstormers, 3-1. A collection of 1,910 spectators were on hand, a big cluster of them making their way to SIUH Community Park from the Willowbrook campus.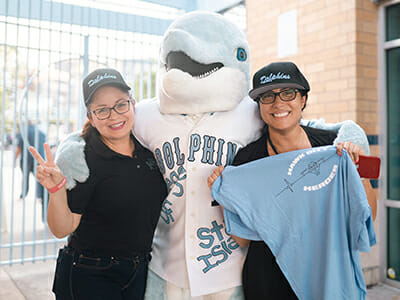 "Tonight was a great chance for us to ring in a new semester at the College, by inviting students and our CSI community to take in an evening with the Staten Island FerryHawks," said CSI Interim President Dr. Timothy G. Lynch. "It was great seeing many of our students, faculty, and staff, taking in the gorgeous ballpark and engaging with one another outside of our campus in this way. The FerryHawks made us feel right at home and nights like this reinforce the great partnerships we have with our neighboring community."
Along with the CSI community, all fans were treated to exciting pregame activity, which saw CSI students take the field for photos with Danny the Dolphin and the FerryHawks mascot. Fans with CSI identification were given reduced admission and the first 500 fans received free t-shirts. Mauro was introduced as FerryHawks Manager for the evening, and CSI student Daniel James threw out the game's ceremonial first pitch.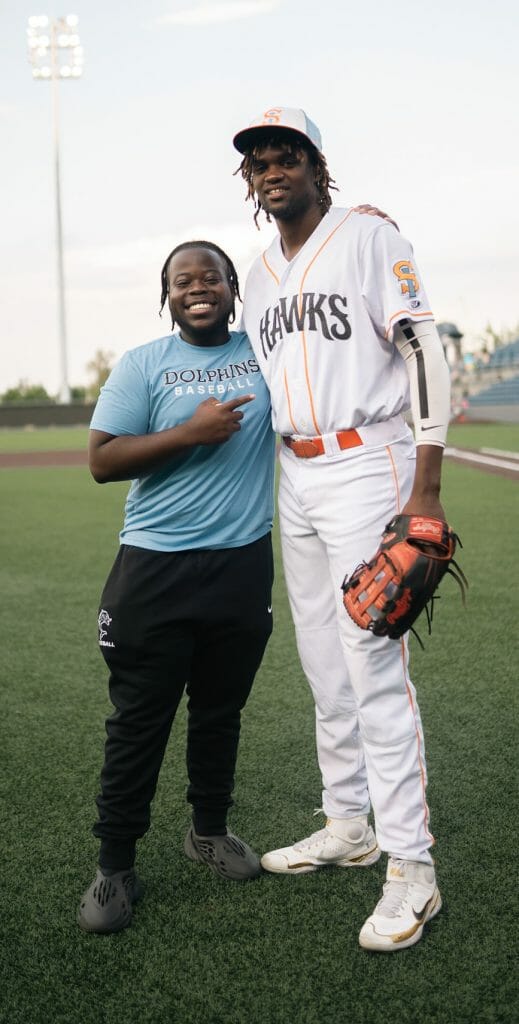 "Being the FerryHawks manager was surreal," commented Mauro. "The way I was treated by the organization was amazing. Seeing all of my friends, family, and coworkers in the stands was so humbling. Being able to take pictures, sign autographs, and interaxt with the Staten Island community while representing CSI is a memory I will cherish forever."
Fans got treated to a great game as well, albeit a tough FerryHawks loss. Staten Island got on the board first in the bottom of the fourth inning via a Ricardo Cespedes single, but the Barnstormers responded in their half of the fifth inning, touching FerryHawks starting pitcher Anthony Rodriguez for all three of their runs, highlighted by an Andretty Cordero two-run homerun. Staten Island was able to threaten a couple of times from there but Lancaster starter Oscar De La Cruz was sensational, pitching eight innings, while Josh Graham picked up his seventh save. The FerryHawks fell to 20-26 on the year, while the Barnstormers improved to 30-15.
CSI Night at SIUH Community Park is the kickoff to CSI's Weeks of Welcome programming taking place now through mid September. The Staten Island FerryHawks continue their season through September 18.
See Photos of CSI Night with the Staten Island FerryHawks via the CSI Today Gallery, courtesy of photographer Marquis Pickering.