This past summer, four Computer Science students from the College of Staten Island, Cheng Wang, Gary Feng, Gianna Galard, and Andrea Habib, traveled to Charlotte, NC, to intern at Lowe's 357,000 square-foot tech center, in a ten-week program that provided the students an opportunity for a hands-on experience, impactful one-on-one mentorship in a collaborative environment, and a suite, where they lived together for the summer. At the end of their Lowe's internship experience as software engineers, they have been offered full-time positions at the home improvement giant once they graduate by the end of the 2022 fall semester.
The first-time out-of-state interns were apprehensive for personal reasons but were equally exhilarated to embark on the summer internship and gain experience in technical skills within the computer science field.
"This was my first internship working with a big corporate company and out-of-state, where there are an overwhelming amount of moving parts," said Habib. "I was honestly really anxious but excited at the same time since I was moving to a whole new place away from my family. It was a good opportunity to spend the summer in North Carolina and work."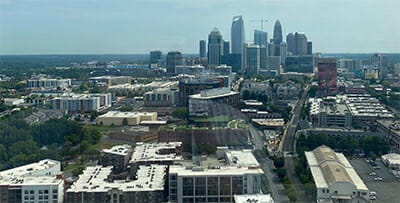 Apart from traveling out-of-state, this was also the interns' first time living with their schoolmates. They shared a suite provided to them by Lowe's, which was a very unique experience for them all.
"It was interesting because it's the first time I've ever lived with someone," said Wang. "Sharing was not a big thing in my life, but slowly I learned to do things like shower first or wait for the kitchen, so time management was big."
As for their work at Lowe's, the Computer Science seniors were split into different teams, where they learned and performed extensive technical skills alongside other software engineer professionals, like Android Programmer, Dennis Shiel, and Senior Software Engineer, Andrew Becker, who were mentors of Wang and Feng during their summer internship.
"My daily duties included participating in agile routines and ceremonies such as Daily Standup, Backlog Grooming, Sprint Planning, and Demos," said Galard. "My general responsibilities focused on writing UI tests for multiple scenarios in the Payment Methods section of Wallet using Espresso and Wire Mock to ensure the proper app functionality and a seamless experience for the customer."
The CSI students recognized that Lowe's summer internship program provided them with a space in which they felt their thoughts and ideas mattered to the company's staff and encouraged interns to ask questions and engage in in-person meetings and team events.
"They provided a lot of support, and they allocated a mentor from the team we were on to help us through the business process, technical difficulties, and being more accustomed and comfortable with the team," said Habib. "They also provided a lot of networking events, where we got to meet other peers, executives, and developers. That helped us understand more about different business aspects, how Lowe's operates, and gain meaningful connections within Lowe's."
The CSI students emphasized they could not have done this without the great support from the CSI Computer Science Department and its faculty and staff members.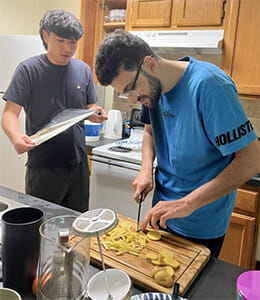 "[CUNY 2X Tech Academic Advisor for the Computer Science Department at CSI] Kristi Brescia and Professor Tatiana Anderson have been highly influential and encouraged me to work on side projects to improve my skills," said Galard. "Kristi constantly shares opportunities and enables us to apply, offering LinkedIn and résumé help. Professor Anderson is the club advisor for Hack-A-Project, where we compete in exclusive campus hackathons to help us build our résumés, and network with other Computer Science students, and expand our skills."
Brescia reciprocated the recognition to the four students for taking advantage of the opportunities that CSI had to offer to equip them with the necessary skills and experience that would aid in their individual future career successes.
"The reason they're very successful, though, is the Department invested in an academic advisor and a career advisor at the same time, so every time they come to me for academic advisement, I'm like, "Where are you going to work? Where's your résumé? and then I would just send opportunities," said Brescia. "But they're responsible for the success. It's amazing. Two years ago, they weren't even thinking about it, and now they've landed a full-time job by just doing things inside and outside the classroom. They're a true success."
Now, all four CSI students have since been offered full-time positions at Lowe's after they graduate, a truly amazing accomplishment given that for three of the four students, the Lowe's internship was their first internship experience.
"I felt secure, because in this economy nowadays, students are struggling to find full-time positions after graduating," said Feng. "So, I feel blessed, it's definitely a step in the right direction for success in the future."
Cheng Wang, Andrea Habib, and Gianna Galard have since confirmed their employment with Lowe's Companies after graduation at the end of this year as full-time software engineers where they will continue to expand their skills and individual careers.
Regardless of their future endeavors, the four CSI students have since grown their professional network, industry knowledge, and a clear path in what they would like to specialize in computer science after graduating, something the students sought to discover prior to the Lowe's internship.
"I always saw myself pursuing full-stack Web development," said Galard. "However, after my internship, I've grown a more significant interest in Android Development."
By: Angel Castelan