"A great experience."  "Eye-Opening."  "Valuable and useful."
These are just some of the remarks from students who attended the highly successful "Careers in Finance, Economics, and Accounting Summit," hosted by the Lucille and Jay Chazanoff School of Business on November 16, 2022, after a two-year COVID hiatus.
Inaugurated in 2017 in collaboration with CSI/Macaulay alumnus Thomas Brigandi (Class of 2012), the event customarily features an expert panel of speakers representing diverse aspects of the financial sector, career planning advice, and pointers for networking. The first three Career Summit events were held in-person and were followed by a buffet and networking session. After much consideration and planning, the 2022 event pivoted to a virtual format that allowed for online classes to participate. More than 200 students, faculty, and alumni attended the virtual Summit, including Mr. Jay Chazanoff, who was able to join in for part of the event.
Following welcoming remarks by the Chazanoff School's Founding Dean Susan Holak, Mr. Brigandi gave an impassioned keynote presentation about the value of networking and the extent to which his career path has benefitted from outreach and contacts. As a demonstration of commitment to this event, Tom himself is the person who organizes the panelists for it each year. After his opening remarks, Mr. Brigandi introduced the program's moderator, Roberto Peralta, Head of Institutional Client Relations at Société Générale.
Mr. Peralta adeptly guided a discussion with a panel of professionals, using questions submitted in advance by faculty, students, and staff. Topics were wide-ranging and touched upon the individual career paths of the panelists, emerging industry trends, strategies for navigating task automation, managing in a world of uncertainty and ambiguity, specific career advice about internships, and industry changes brought about by concerns relating to Environmental, Social, and Governance (ESG) and sustainability.
Several of the panelists were returning for their second or third appearance at the event. This year's participants included Michael Cianciaruso, Tax Director at Citrin Cooperman; Daniel H. Gerard, Senior Strategist for State Street Global Markets; Ally Mikhaylova, Vice President in the Global Markets Division at Goldman Sachs; Jamie Rizzo, CFA, Director at Aflac Global Investments; Utku Teksoz, PhD, Economist with the United Nations; and Elliot Walkenfeld, a Partner with Deloitte. It is noteworthy that CUNY is well represented in this group, as several panelists earned degrees at various CUNY institutions. Both Thomas Brigandi and Michael Cianciaruso are CSI alumni.
As well as volunteering time and expertise, panelist Jamie Rizzo offered students a free e-book download of his book entitled The Ultimate Career Guide for Business Majors. Attendees greatly appreciated this additional resource as a takeaway from the evening. Management student Ashley Plymale gratefully said that she had already downloaded her copy within minutes of the end of the event.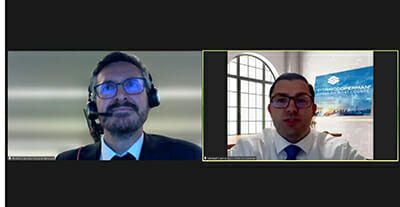 "Excel is the world." "The earlier you start with internships, the better." "Coding – specifically Python – is becoming more and more desired." "Understanding how to evaluate data or earnings will never go out of style." "Take advantage of networking." "Your major is not necessarily who you are."
The statements above were all made by students who attended the Summit. Finance student Christian Fajardo commented, "Thomas Brigandi gave a great introduction to the power of networking and taking the initiative to seek opportunities. It reminded me of myself and the lengths I went to secure my internship and a full-time role and expand my professional network." Tanearia Scott, who is studying Accounting, noted the importance of some of the advice that was shared, saying that "it's important that I use all the resources around me – especially what CSI offers – because College is really the foundation of my career."
Many students made comments to their professors about the event. The Chair of the Department of Accounting and Finance, Professor George Wang, said: "All my students who participated commented highly, saying they truly learned a lot and thanked me for informing and encouraging them to attend."
Chazanoff School Dean Susan Holak expressed her appreciation to Tom Brigandi and all the panelists for the generosity of their time, noting the impressive level of expertise and experience represented by the group. "You shared so much important, unprompted, candid advice that aligned perfectly with initiatives in the Chazanoff School. We are a PRME-signatory institution, meaning that we are trying to do our part toward furthering the United Nations' Sustainable Development Goals (SDGs). We instituted a Python course and have a minor in Business Data Analytics. In addition, we are also trying to advance a leadership program that exposes students to Emotional Intelligence (EI) concepts along with the 'soft skills' that were discussed. You all held the audience for the entire event – I think that point speaks volumes about how valuable the information was judged to be."
PRME (Principles for Responsible Management Education) is a worldwide movement by business schools to address the societal impact of business as well as the UN SDGs.
Professor Thomas Tellefsen, Chair of the Department of Marketing, said that "This all-star panel, gave specific, actionable advice to help students focus their studies and launch their careers. They highlighted a blend of networking, personal growth, and skills enrichment. It was particularly interesting to see their balanced emphasis on technical and soft skills." Marketing major Noah Lunn took the panelists' advice to heart, noting, "Networking is something I need to start doing. They said that building connections in the field you want to work in is great because it can lead to opportunities such as internships or jobs down the road. I need to get on this immediately because I don't really know anyone in the marketing field."
Dean Holak applauded Tom Brigandi's passionate and stalwart support for CSI students and their success.  "He has an amazing track record with the Career Summit event, which has become a much-anticipated tradition at the Chazanoff School.  We are exceedingly grateful to Tom for his dedication." Mr. Brigandi, the panelists, and members of the audience are looking forward to the fifth Career Summit next fall, with the possibility of returning to the in-person networking opportunities that every panelist regarded as essential to students' career development.
By: Warrick Bell