In a press event held Wednesday at the Staten Island Jewish Community Center, the College of Staten Island was recognized as a partner alongside the UJA-Federation of NY, Hillel International, and Wagner College, in joining with the Joan & Alan Bernikow JCC of Staten Island, to announce that the JCC has entered into a management agreement with Hillel. The management agreement will create a new, first-of-its-kind model of one Hillel that serves both CSI and Wagner, as well as other college-aged students on Staten Island. Hillel of Staten Island will have access to all of the JCC's resources, strengthening its impact in the community.
"Our goal is to create a future community for all Jewish young adults to engage, thrive, and grow. Hillel of Staten Island is a unique model that will create a seamless connection for those attending college, participating in alternative educational pathways, and individuals who are already on their career paths. These young adults will build, strengthen, and lead the Jewish community both on college campuses and throughout Staten Island," said JCC CEO Orit Lender.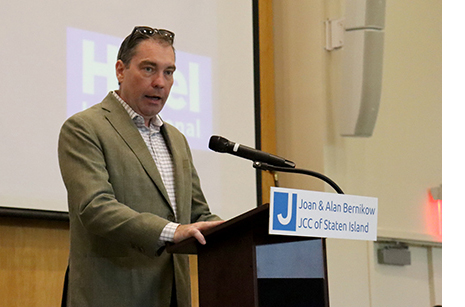 CSI President Dr. Timothy G. Lynch attended the event, recognizing CSI alumna and former President of the CSI Hillel Chapter, Rachel Vaynshteyn, who will serve as the Staten Island Hillel Director in this new partnership, adding, "I am very proud of this partnership that further supports Jewish students within our community, helping them achieve their academic goals while building a strong social foundation which will contribute to their success beyond the college experience. Hillel at CSI has always been a wonderful student organization and partner in not only providing our students a special space to socialize while staying connected to culture, traditions, and values, but also helping our students develop the skills they need to become strong leaders in the Staten Island community."
The funding for this initiative comes from UJA-Federation of NY, a core partner of the JCC and Hillel.
Eric Goldstein, UJA CEO, said, "Many students who attend college in Staten Island also settle here after graduation. This new partnership introduces the JCC into student lives during college, providing an established connection to Jewish life and community after they graduate. We are grateful to the leadership of the JCC, Hillel, the College of Staten Island, Wagner College, and everyone else who helped develop and launch this exciting new program."
Hillel of Staten Island will be part of Hillel International, the world's largest and most inclusive Jewish campus organization.
"Hillel International is thrilled to support the expansion of Jewish life on college campuses through the Staten Island Hillel, in partnership with the JCC of Staten Island, UJA-Federation of New York, Wagner College, and the College of Staten Island. Through robust programming and opportunities for student engagement and Jewish learning led by Rachel Vaynshteyn, the Staten Island Hillel will become a center of Jewish life in the area," said Adam Lehman, President and CEO of Hillel International.
In her new role, Vaynshteyn will work with students on both campuses and beyond in the areas of education, professional life, mental health, socialization, activism, and exploration of their Jewish journeys.
"A stronger structure for Hillel will support Jewish life and create a safer climate on campus. For a growing number of Jewish students, ignorance and hate are becoming more commonplace. Hillel of Staten Island is already working with our local colleges to help fight back against Anti-Semitism and hate of all kinds. By coming together for our young adults, the JCC and Hillel can integrate a sense of belonging to the Jewish community. It is imperative that the young adults on Staten Island be empowered to become the leaders of the next generation of Jewish life for our community," said Lender.
"We are looking forward to working with Rachel and all of our new partners in building an even stronger and more welcoming and inclusive community for our students, where everyone has a true sense of belonging and opportunity to ascend and succeed," added Dr. Lynch in his time at the podium before introducing Wagner College Vice President of Enrollment and Campus Life Ruta Shah-Gordon.
"Wagner is proud to be part of this collaborative where young people from the two colleges and from the community can come together as a Staten Island Hillel to learn and participate in meaningful and powerful experiences that will help develop their leadership skills and propel them into the civic professionals of tomorrow," she said.
Hillel serves more than 140,000 students each year at 850 colleges and universities around the world.