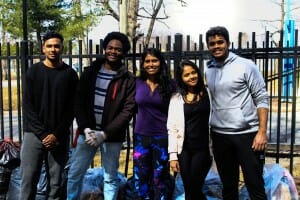 Mahima Hettiarachchi, a Mechanical Engineering student at the College of Staten Island, gathered four of her fellow students from the Center for Global Engagement, and a friend from Baruch College, and took the initiative to tidy up the back entrance of the Willowbrook campus, early this month.
Mahima said of the project, which involved picking up plastic bags, bottles, and other trash in an area that naturally collects a lot of refuse, "I decided to come up with the green clean project, which would [make] the College premises clean and environmentally friendly. As an Engineering Science student, I believe that we need to protect our planet and prevent any further damage done to the environment.
The other members of the clean-up crew were Mechanical Engineering students Adarsh Bahadur, Maheshi Rajasekara, and Melvin Sumemrville; Computer Engineering major Sachin Stanly; and Madushan Pussewala, a Marketing major from Baruch College.