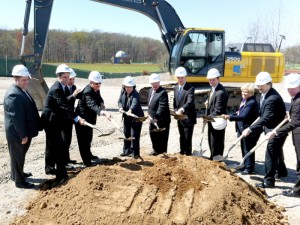 Officials from the College of Staten Island (CSI) joined today with New York legislators and construction team leaders, shovels in hand, to break ground on the highly anticipated residence halls on the northwest corner of the College's North Academic Quadrangle near the Campus Center.
The housing project is the first major construction of new facilities since 1993. The residence halls will transform CSI, a senior college of The City University of New York (CUNY), into a destination for national and international students, as well as Islanders looking for a residential college experience in the city that never sleeps, according to College officials.
"The housing project is an institutional milestone," said Dr. Tomás D. Morales, President of CSI. "It is an integral component of the College's Master Plan, which was developed through a highly interactive and collaborative process with all members of our College community. The occupancy of these buildings will be transformational for the College, as well as our faculty, staff, and students."
In keeping with the President's vision and the institutional philosophy of protecting the environment and developing sustainable and responsible patterns of development, the buildings are designed to achieve LEED Silver Certification.
The two buildings will house 454 residents in 133 fully furnished apartments. The four- and five-story buildings will feature single- and double-occupancy units, nine Resident Assistant units, and one Resident Director unit. All private and semi-private units for students will feature kitchens with a four-burner range top, oven, refrigerator, and garbage disposal, as well as dedicated bathrooms.
Full details of the state-of-the-art residencies, including floor plans and amenities, can be found at www.csistudenthousing.com.
The buildings are designed to pamper their residents with high-end amenities that foster a sense of community. Residents will enjoy lounges, a cardio-focused fitness center, meeting and multipurpose spaces, private study rooms, a mailroom, a business center, vending areas, and laundry facilities. A fully staffed onsite management office will keep things running smoothly.
The buildings are at the heart of a seven-acre site that will be transformed with new pathways, landscaping, and lighting. Nearby recreational areas will include two new basketball courts and four new handball courts.
"Our new residential project is a significant component of the College's recently adopted five-year Strategic Plan," said Ira S. Persky, Vice President for Finance and Administration at CSI. "The project will enable the College to attract students from a wider geographical area, provide more educational opportunities, and help to foster an on-campus environment that will benefit the entire College community."
The construction phase of the project will create nearly 277 construction-related jobs and will take approximately 17 months. The units are anticipated to be ready for occupancy in fall 2013. Site work will continue for five months, building exteriors will be completed in early 2013, and the remaining construction, including interiors and site restoration, is anticipated to be completed in August 2013.
The housing complex is a collaboration between Austin, Texas-based American Campus Communities (ACC) and CSI Student Housing LLC with The City University of New York (CUNY). The New York City Housing Development Corporation (HDC) Board of Directors recently approved the $67.5 million in tax-exempt Residential Revenue Bonds, 2012 Series A, as well as the $2.5 million Residential Revenue Bonds, 2012 Series B Bonds, to fund the construction and equip the buildings. The General Contractor is T.G. Nickel & Associates, the same firm that recently developed the student housing facility at CUNY's Queens College, which was also financed by the HDC.
"We are honored to be partnering with CSI to deliver this transformative student housing project–a first step in changing the campus experience from commuter to residential," said Jamie Wilhelm, ACC Executive Vice President of Public/Private Transactions. "This modern complex will offer CSI students an on-campus residential experience that will enhance academic success and foster the sense of student community while providing state-of-the-art accommodations and services."
Marc Jahr, President of the HDC said: "We are excited to join the College of Staten Island and American Campus Communities to celebrate the groundbreaking of the student housing residences. With an increase in student population, long commutes, and a limited amount of apartment complexes–there's clearly a need for on-campus housing. Not only will the overall campus life for student residents improve, but students will now have a home away from home."
About the College of Staten Island (CSI):
The College of Staten Island (CSI) is a senior college of The City University of New York (CUNY) serving 14,000 students, which boasts a modern, 204-acre campus that offers the serene and beautiful surroundings traditionally associated with academic life, and facilities that are among the most advanced of any college. A sophisticated network links more than 2,500 computers on campus, enabling students and faculty to transmit voice, data, and multimedia communications. All facilities are accessible to students with disabilities.
The combination of highly credentialed faculty and hands-on experience with modern equipment prepares students seeking professional careers, as well as those seeking admission to graduate schools. The College offers more than 80 undergraduate and 24 graduate programs leading to associate's, bachelor's, and master's degrees. Doctoral degrees are also offered in conjunction with The Graduate Center, CUNY.
About American Campus Communities (ACC):
American Campus Communities, Inc. is the largest owner and manager of high-quality student housing communities in the United States. The company is a fully integrated, self-managed and self-administered equity real estate investment trust (REIT) with expertise in the design, finance, development, construction management, and operational management of student housing properties. American Campus Communities owns 120 student housing properties containing approximately 74,900 beds. Including its owned and third-party managed properties, ACC's total managed portfolio consists of 149 properties with approximately 98,400 beds. Visit the ACC Website or its student housing page.
About the NYC Housing Development Corporation (HDC):
The Housing Development Corporation (HDC) provides a variety of financing programs for the creation and preservation of multi-family affordable housing throughout New York City. In partnership with the NYC Department of Housing Preservation and Development, the HDC works to implement Mayor Michael R. Bloomberg's New Housing Marketplace Plan to finance the creation or preservation of 165,000 affordable housing units by the end of the 2014 fiscal year. The New York City Housing Development Corporation is rated AA by S&P and Aa2 by Moody's.