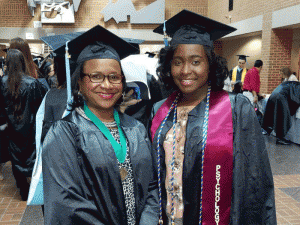 In spring 2017, Caren Fall and Christine McWatt had developed serious cases of senioritis.
Fall was returning to college after many years of being out of school.
McWatt was entering college as a freshman after graduating from Port Richmond High School.
It was a challenging road to graduation, but this mother-daughter team had plenty to celebrate at CSI's Commencement in May 2017.
"Having the privilege to graduate with my mother was an honor. I was ecstatic when I found out that she was going to graduate with her degree with me," said McWatt, who graduated with a Bachelor of Science degree in Psychology.
"I was definitely honored and excited to graduate with my daughter," Fall said, explaining that her college career began 31 years ago, but was halted due to migration to the U.S. from Guyana and health concerns.
"I made a vow that once my daughter became self-sufficient and independent, I would go back to college. So naturally I am excited and thrilled that I was able to go back to college after all these years and graduate with her," said Fall, who received a Bachelor's of Science Degree in Business Management. The Mariner's Harbor resident, who maintained a 3.6 GPA, also received a faculty nomination to join the Sigma Beta Delta Honor Society for Business Management and Administration and the CSI Auxiliary Services Corporation Award for Academic Excellence in Management.
"My mother made so many sacrifices when she had me to make sure I became successful, and the fact that she was able to go back to school when I was a senior in high school and now earn her degree made me so proud of her and to have her as my mom," said McWatt, a recipient of the Summer/Fall 2016 Dean's Research Award, who conducted research with Dr. Ellen-ge Denton and Dr. Collette Chapman-Hilliard on African American students' academic achievement.
A scholarly duo, Fall and McWatt, studied in their dining room together, helped and supported each other with classes, proofread each others' papers, and swapped math formulas.  McWatt even delivered lunch to her mom when she was putting in long hours studying in the CSI Library.
McWatt, a Brooklyn native, notes that having her mother enrolled in college "gave me more motivation to complete my degree."
"During my sophomore year of college, I was feeling really discouraged and thought that I would not finish college in four years like I planned. My mother really pushed me to stick it out and not give up," said McWatt, also a Mariners Harbor resident, and a pharmacy technician at CVS. She is also a contestant in the 2017 Miss Black Staten Island/Richmond County Competition.
McWatt will be attending Brooklyn College as a NYC Teaching Fellow and working toward earning a Master's in Education. Fall plans to continue working at Trinity School in Manhattan while pursuing a business venture.