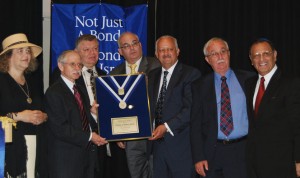 STATEN ISLAND ADVANCE – State of Israel Bonds Staten Island Division honored the College of Staten Island with its Israel Unity Award on June 19 at a community-wide breakfast at the Joan and Alan Bernikow JCC, Sea View. The campaign has raised $1.3 million so far as Bonds celebrates its 60th anniversary year.
On hand were Bonita Sussman, breakfast co-chair; Dr. Fred Naider, CSI board and faculty member; Dr. Zalman Brody, bond drive co-chair; Dr. David Friedman, chairman — President's Club of Bonds; Dr. Tomas D. Morales, CSI president; Ya'acov Rosenrauch, bond drive co-chair; and retired Brigadier Gen.Yehuda Halevy, guest speaker.
This story first appeared in the Staten Island Advance on June 24, 2011, and is reprinted here with permission.