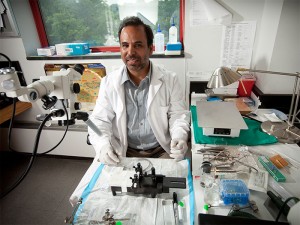 Zaghoul Ahmed, PhD, Department of Physical Therapy at the College of Staten Island (CSI) and Department of Neuroscience at The City University of New York (CUNY) Graduate Center, has been named one of five winners of the $1.5 million 2011 BioAccelerate NYC Prize for his novel research of the PathMaker Neuromuscular Treatment System, a CUNY-trademarked method of treating spinal cord injuries by using electrical stimulation to strengthen neuromotor connections.
System Restores Mobility after Traumatic Injury, Disease or Defect
Dr. Ahmed was awarded the 2011 BioAccelerate prize for his research at CSI, which involves a Proprietary Electrical Stimulation Method and System that combines trans-spinal steady DC stimulation with cortical and peripheral repetitive pulsed stimulation.
"We are extremely proud that Dr. Ahmed has been awarded the 2011 BioAccelerate NYC Prize," said CSI President Dr. Tomas D. Morales. "Dr. Ahmed's groundbreaking invention exemplifies the innovative research being performed at the College of Staten Island and places him at the vanguard of this transformative field."
Bringing Science from the Lab to Lifestyle
[youtube]http://www.youtube.com/watch?v=TqieMnoaChU[/youtube]"Millions of US patients are suffering from paraplegic or quadriplegic paralysis," commented Dr. Ahmed. "We have developed a system – method and apparatus – for treating neuromuscular damage, such as spinal cord injury, cerebral palsy and stroke, and related anomalies."
These conditions are united by the fact that a failed communication pathway between the brain/spinal cord and the associated muscle group is the fundamental cause of the disability.
Dr. Ahmed's invention includes method and apparatus for treatment of dysfunctional communication between neuronally coupled sites in the nervous system.  A unique combination of electrical signals stimulates the neuronal pathway that couples these sites.  The applied signals include a charging component to increase communication intensity along that pathway and a handshake component that enables the sites to regain communication with each other.  The stimulation energizes and engages the natural recuperative mechanisms of the nervous system.
"When there is a spinal cord injury, the connections from the brain to the spinal cord and the spinal cord are weakened.  The basis for the technology I have developed is that applying stimulation to activate brain cells, spinal cord cells and muscle—at the same time—should strengthen the connections and improve function," said Dr. Ahmed.
Ahmed's device and method have shown early promise as an effective technique for strengthening the neuromotor pathways that remain after a spinal injury, promoting significant and perhaps permanent improvement.
He, along with his colleagues, has published two papers reporting "remarkable recovery" with mice.   This research, conducted during the past four years in the animal research facility at the College of Staten Island, was funded by the New York State Department of Health Wadsworth Center.
From Wheelchair to Walking
In his private practice as a physical therapist, Dr. Ahmed has treated severely disabled patients, and has substantially remediated disabilities with lasting effect due to his proprietary stimulation equipment and therapy.
"The system and methods can be employed to strengthen or awaken any weak or dormant pathway in the nervous system – as long as there is at least some minimal connection," according to Dr. Ahmed.
One of the most remarkable outcomes involved a sixteen-year-old female with severe cerebral palsy affecting both her arms and legs.
"She has always been in a wheel chair.  After three weeks of treatment, three times a week for 15 minutes, she was walking with crutches without assistance," said Dr. Ahmed.
"Dr. Ahmed's research will help to establish a new paradigm in the treatment to restore mobility and function in individuals with paralyzed extremities that include spinal cord injuries and related neurological disorders," commented Dr. Jeffrey Rothman, Chair of the Department of Physical Therapy at CSI. "His research has far-reaching implications that will lead to breakthroughs in the field. We applaud the efforts of the New York City Investment Fund that will make this possible."
The Business of Human Science
Funds from the BioAcelerate grant will be used by Dr. Ahmed to purchase equipment and create a facility on the College of Staten Island campus where a clinical trial involving 96 patients will be conducted in partnership with Staten Island University Hospital.
If the PathMaker system continues to prove effective, CUNY could license the technology through an offshoot company.
The Partnership for New York City and the New York City Economic Development Corporation (NYCEDC) has designed the BioAccelerate program to further research in the life sciences to attract venture capital funding.
The New York City-based winning researchers will each receive $250,000 to conduct late-stage, "proof-of-concept" research on products that improve human health, with a goal of making New York City a center of bioscience and bringing proven technology to the marketplace.
Of 55 applicants, five winners were selected after a competitive process in which all of the applicants were scrutinized by leading venture investors and senior executives from the life science industry.  Along with funding, Dr. Ahmed was also paired with a mentor who has senior level management experience at a life science company.
The competition marks the first phase of the Partnership for NYC's long-term commitment to ensuring that promising laboratory discoveries made in New York translate into jobs and business development for New York City.