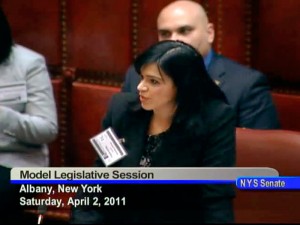 When it comes to state senators, like other politicians, most people have a limited understanding of what they do, and limited contact with them. The majority of people certainly don't get to become senators without a lot of effort and funding.
Four students from the College of Staten Island, however, had the unique opportunity to experience what it is like to be a state senator, last semester, thanks to their participation in CUNY's Model New York State Senate Project. The four Model Senators were Marybeth Melendez, who recently graduated from CSI with a Bachelor of Arts degree in Psychology and Sociology; Kelyn Potes, a junior who is majoring in Spanish; Alex Menjivar, who is also a junior, majoring in Political Science; and senior Business major Francesca Navarro.
Model State Senator Melendez describes the program's process from start to finish. "You are selected based on your GPA, your leadership activities, your essay, and recommendations from your campus. If you are selected, you go to six intense training sessions where you are taught Politics and Government in the United States 101. [These sessions are taught at the CUNY Graduate Center.] You are taught everything that you could ever think about in government and politics by real senators, real assembly members, and real political science professors. Then, you are given an actual bill that is being debated in the legislature at the moment, your name is put into a pool, you are selected to be either a Republican or a Democrat, and you're given a district. So, the student is not imitating the senator from that particular district that you're chosen, [you become] the senator of that particular district." Melendez also notes that she received demographic data for her district so that she could adequately debate about her bill in Albany, which was about redistricting.
View Model State Senator Melendez on YouTube.
Although she's not sure, after this experience, whether she would like to go into politics, Melendez says, "When I walked onto the Senate floor, I felt like I belonged there, like it was right." She adds, "I can actually see myself in politics." View the video of Senator Melendez on the Model Senate floor.
According to the program Website, "The Model Senate Session…is designed to provide Latina/o students at CUNY with a unique opportunity to develop leadership skills in a legislative/policy-making setting, with an emphasis on critical thinking and communication…An added feature of the Model Senate Project is the opportunity to compete for ten scholarships awarded by the NYS Assembly and Senate Puerto Rican/Hispanic Task Force."
To learn more about the program, also known as the Edward T. Rogowsky Internship Program in Government and Public Affairs, visit the internship Website, www.etrinternship.org.
View