A breezy, partly sunny day provided the setting for the College's 9/11 Remembrance Ceremony, last Friday, as CSI students, faculty, staff, alumni, and family members of some of the 27 alumni lost on that day gathered in the Memorial Garden to mark the tenth anniversary of the tragic attacks on our nation.
Vice President for Student Affairs Dr. A. Ramona Brown, who served as the emcee of the ceremony, introduced CSI President Dr. Tomás D. Morales, who offered welcoming remarks. "We will never forget those whom we lost and we will never forget their families, friends, and loved ones who continue to try and heal from this unspeakable tragedy," he said. The President recalled where he was where he was when he heard the news of the attacks and mentioned that he spent time as a high school student working in New York City's Financial District.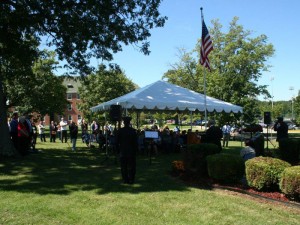 "Students come to the College of Staten Island to fulfill their dreams and aspirations," President Morales added, "to pursue productive careers in the hopes of achieving better lives. The stark realization that 27 CSI alumni, 27 of our former students, were taken from us on 9/11 is indeed especially painful. The names of these former students, engraved on a plaque in the Memorial Garden right here before us, serve as a reminder of a great loss that continues to resonate with all of us."
Following President Morales's remarks, Music student Stephanie Geraci performed "Meditation" from Jules Massenet's Thaïs on solo violin and English Professor Cate Marvin read her poem, "On Trying to Write a Poem After 9/11/01."
Representing the CSI student body, Cpl. Joseph McDonough, a member of the United Stated Marine Corps and the CSI Armed Forces Club, shared his feelings on 9/11, noting that he was personally affected by the tragedy, having lost a family member and many loved ones on that day.
Next, Arthur J. Merola, DPM '84, '85, President of the CSI Alumni Association Board, and Linda Dianto '69, '71, '85, Assistant Treasurer of the Alumni Association Board, read the names of the CSI alumni who lost their lives on 9/11.
Elaine R. Schenk, MId from Catholic Campus Ministry offered closing thoughts, calling on everyone in attendance to focus on forgiveness, peace, and kindness in an effort to heal.
The ceremony concluded as attendees placed white carnations next to the 9/11 Memorial.
Members of the College community who would like to speak with a professional counselor are urged to visit the Counseling Center in Building 1A, Room 109, either alone or with friends. Center hours are 9:00am to 5:00pm, Mondays, Wednesdays, and Fridays, and 9:00am to 7:30pm on Wednesdays and Thursdays.