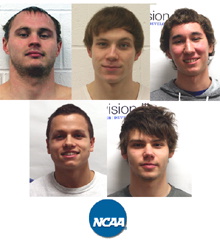 For the fifth straight year, the CSI men's swimming team is headed to the NCAA DIII Swimming and Diving National Championship in Indianapolis, Indiana. The Dolphins sent five male swimmers; veterans Danila Novikov, Vladislav Romanov and Andrey Tarasov and newcomers Timur Rakhimov and Yury Zimarev. The five earned their way into the Championship with their times during the season.
The events run from today, March 21 to Saturday, March 24 with CSI in an event each of the days. The trials start this morning at 10:00 am for the 200 IM which both Novikov (who captured a bronze in the event last season) and Romanov will participate in. Also this morning will be the time trial for the 200 Medley Relay that Romanov, Novikov, Zimarev and Tarasov will swim in. If all make it to the finals, they will be held this evening at 6:00 pm.
Tomorrow, Thursday, March 22, will hold the most events for the Dolphins; The 200 Freestyle Relay, 400 Medley Relay (last year they saw a 6th place finish) with the same team of swimmers, the 400 IM for Novikov (11th place last year)and the 100 Butterfly for Zimarev. Again, the preliminaries begin at 10:00 am and should they make the cut, the finals will be at 6:00 pm the same evening.
On day 3 of the events, Friday, March 23, preliminaries will begin with Novikov in the 200 Butterfly and Romanov in the 100 Backstroke (7th place last season). Also, Rakhimov and Tarasov will look to surpass former CSI swimmer Pavel Buyanov's 54.27 NCAA record in the 100 Breaststroke. Trials are at 10:00 am followed by the finals at 6:00 pm.
On the final day of the Championship, the time trials will begin at 10:00 am as senior Romanov participates in his last event in the 200 Backstroke (in which he placed 15th overall last year), Tarasov (who placed 10th last season) and Zimarev in the 200 Breaststroke as well as the foursome in the 400 Freestyle Relay. 6:00 pm will be the finals followed by awards.
Stay tuned to all coverage and updates on www.ncaa.com/sports/swimming-men/d3
including results and video footage. Also stay tuned to www.csidolphins.com for updates.