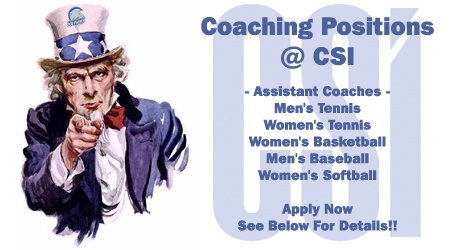 The College of Staten Island Office of Athletics & Recreation is currently accepting applications for the position of Assistant Coach for the following sports:  Men's Tennis, Women's Tennis, Women's Basketball, Men's Baseball & Women's Softball.  These are a part-time, seasonal, positions.
Responsibilities include assistance with the administration, supervision, management, and student-athlete selection for the programs.  Applicants must be able to assist in the areas of scouting, strategy, recruitment, conditioning and player development to enhance athletic performance and achievement, coupled with a keen focus on academic excellence.  Responsibilities to also include fund-raising initiatives and programming.
Minimum Qualifications: Requires a minimum of three years of collegiate or high school coaching or playing experience, with preference given to collegiate coaching experience.  Bachelor's Degree preferred.
To Apply please supply a cover letter, resume and three references by July 27, 2012 to:  marianne.mclaughlin@csi.cuny.edu.  Be sure to reference the code of the position to the position you are applying for:  Men's Tennis (MT), Women's Tennis (WT), Women's Basketball (WB), Men's Baseball (BB), Women's Softball (SB).  AA/EOE.