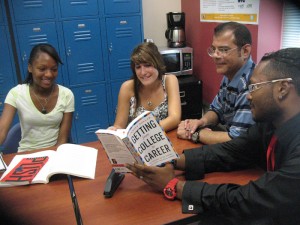 This summer, staff from the College of Staten Island's (CSI) Center for Student for Accessibility (CSA) will be presenting at the national Association on Higher Education and Disability (AHEAD) Conference. AHEAD invited Center staff to present on not just one, but two sessions at the July Conference, which will take place in New Orleans, LA. AHEAD is the premiere national organization guiding best practices for disability service provision in higher education. Many of the Center's programs are based on standards developed by AHEAD.
"I'm inspired that the accomplishments of the Center over the past few years are being recognized on the national stage," commented Cruz Cullari, who has been the Director since December 2009. "I'm looking forward to representing the College and our Center and also to see what other colleges and universities will share at the Conference."
Assistant Director Sara Paul also played a key role in drafting the Conference proposals as well as in the creation and management of these initiatives.
"To share our work at such a major event and network with other higher education professionals is an honor, and I am very excited to showcase the efforts of the Center and all our staff," said Paul.
During a three-hour preconference session "First-Year Connections: Holistic Student Support Programming for Students with Disabilities," presenters Cruz Cullari and Paul will focus on the Center's First-Year Connections (FYC) Program, which celebrated 90% retention last year. The Connections Program helps students transition into the college and is guided by four desired learning outcomes. Academic counselors meet with students regularly and report to the Director and Assistant Director on the progress and needs of each student.
The Program is highlighted by the CSA Summer Institute, a series of full-day workshops that introduce incoming first-year students to such crucial topics as the differences between high school and college and choosing a major. The FYC culminates in a campus-wide student panel event, entitled "My Story," in which students with disabilities describe their challenges and triumphs in high school and college. Panelists also focus on their transitioning experiences into college.
In another session, "Curricular Universal Design: Creating Accessible Writing Assignments for Students with Invisible Disabilities," participants will learn how to prepare a collaborative curriculum project with faculty and staff at their respective institutions in the spirit of Universal Design.  This session will also look specifically at efforts like Writing Across the Curriculum (WAC), a collaborative endeavor on which Center staff worked with the English Writing Fellows and Professor Hildegard Hoeller. In particular, the session will showcase one of the collaborative WAC publications, a faculty guide for introducing writing assignments.
Cruz Cullari explains, "More than anything else, these programs are about our students. Our sharing at the 2012 AHEAD Conference reflects hard work of the Center's staff and their passion for student success."
The Center for Student Accessibility (CSA) provides academic advancement, co-curricular commitment and pre-professional training to the CSI community. The CSA is a part of the Division of Student Affairs.