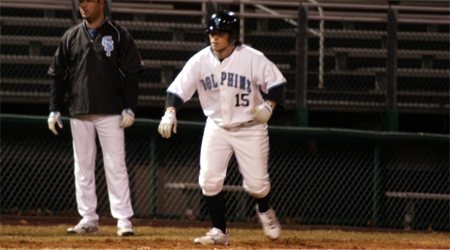 Baruch College swept through the 2012 CUNY Athletic Conference / Municipal Credit Union Baseball Championship has concluded at MCU Park in Coney Island, beating two-time defending champ College of Staten Island, 5-3 on Saturday. The Bearcats played the minimum three games in the double-elimination event to earn their first title since 2009. Junior RF Alvin Mata was named Tournament MVP, following a three-run homer, while Jesus Izarra had a strong game ont he mounf, to put Baruch over the top.
With the result, the Bearcats (21-17) win their second CUNYAC championship in four years, third overall in team history, and continue to set the team record for most wins in a season with 21. The loss drops Staten Island to 20-18 overall.
"Last year, we lost a heart-breaking game in extra innings to Staten Island in the championship," said Head Coach Jose Torres. "Since then, we have worked hard since practice started to avenge that defeat and bring the trophy back to campus. Today's victory is the culmination of all that hard work that resulted in us winning today's championship."
The Bearcats jumped to a 2-0 lead in the first inning. Thomas Daly hit an RBI single, his 50th RBI of the season, to score Steve Hession, while  Alvin Mata scored from third base on a wild pitch for the early 2-0 lead.
Staten Island tied the game in the third inning as Bryan Moreno smacked a two run double to left center to score Sal Todaro and Luis Ortiz for the 2-2 tie.
The game remained tied until the Bearcats came to bat in the fifth inning. Mata hit a two out, three run homer to left field for the 5-2 lead to score Also Altamirano and Thommy DeJesus.
Staten Island scored a run in the eighth inning on an RBI single by Joe Cassano to score Bryan Moreno, but could not get any closer as Baruch ace Jesus Izarra pitched a complete game with seven hits allowed, three earned runs and five strikeouts to raise his season record on the mound to an undefeated 7-0.  
Mata was named the Championship Tournament MVP with an impressive three game championship performance batting .640 (7-11), with six runs scored, four RBI, five stolen bases, one double and one homer run.
"I would like to give all the glory to God as it feels amazing to be a part of championship team, which I have never been fortunate to be a part of," said Mata. "I have gotten close to winning a championship several times in my life and today it finally happened."
The win by the Bearcats spoiled the Dolphins' attempt at a third straight championship, but the young Dolphins will continue to stay poised and focused.  The Dolphins will travel to FDU-Florhamn for a single game on Tuesday, May 1.