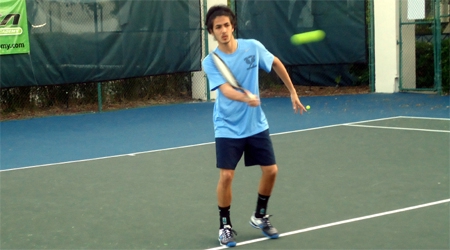 The College of Staten Island men's tennis team will be traveling to the National Tennis Center in Flushing, New York, today with one thing on their minds: pulling an upset against the top-seeded Baruch College Bearcats  in the CUNYAC Quarterfinals.  The match will begin at 3pm, simultaneous with No. 2 John Jay College facing No. 3 Hunter College in the other semifinal.
On paper, all signs favor the Bearcats, who are 13-2 overall this season and ran a 7-0 string against CUNYAC foes, blitzing by No, 8 CCNY in the Quarterfinal Round, 5-0.  The Dolphins have struggled through a 7-8 season this year, going 4-3 through the regular season, surviving a scare in the quarterfinals by beating Brooklyn College, 5-2, in a match that was much closer than the final score indicated.
CSI, however, is upbeat going into their match against Baruch, because the Dolphins are the healthiest they have been in weeks, and should sport their entire lineup this afternoon, something they haven't been able to do.  Sophomore Daniel Ursomanno, who along with fellow sophomore Nicholas Zikos and Riad Hamai, has been one of CSI's steadiest players, is still banged up, but the possibility of playing should see CSI at its fullest strength since the season started.
"It's ironic," said Head Coach Paul Ricciardi.  "In the past we have been the team in CUNY that has been very strong during the regular season, while many of the other teams would sport incomplete rosters until the playoffs.  Now that seems to be us.  We still are not 100%, but having most of our guys at full health could make us a contender and the guys are excited."
The biggest return is No. 2 player Filip Bubalo, who has looked dominating at times, but has been plagued with injury since stepping on to the courts.  Vladislav Romanov, who joined the Dolphins fresh off of his run as a NCAA silver medalist in swimming, is also on board for the Dolphins, who fell hard to Baruch, 8-1, during the regular season.
A win by the Dolphins will pit them in Thursday's CUNYAC Final.