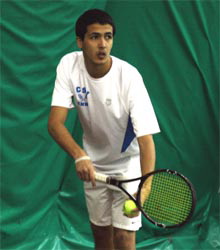 Baruch College defeated the College of Staten Island, 5-1, in a CUNYAC/Hospital For Special Surgery Championship semifinal match played on Sunday afternoon at the Billie Jean King USTA National Tennis Center in Queens.
With the result, the Bearcats raise their record to 14-2 overall and advance to play in Thursday's 5:00 pm championship match against Hunter College.
The Bearcats won two of the three doubles and three singles to post the victory. Per postseason rules, the match was halted upon the winning team clinching the fifth point.
CSI's lone win came from No. 2 doubles flight where Nick Zikos and Dan Ursomanno defeated Christopher Jenkins and Stephan Muller, 8-6.