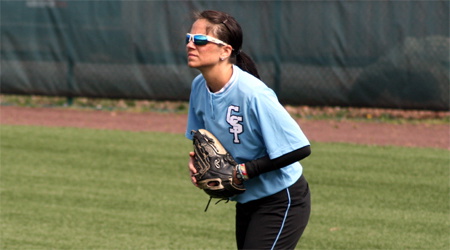 The College of Staten Island women's softball team dropped a pair of non-conference contests today, falling to visiting William Paterson University at the CSI Softball Complex.  WPU won game one 2-0, before warding off a Dolphins comeback for a 5-4 game two win.  CSI fell to 7-13 overall, while the Pioneers lifted their overall mark to 21-5.
In the opener, an otherwise pitcher's duel was broken up in the sixth frame, as CSI's Danielle Ponsiglione went toe-to-toe with WPU's Michele Graham.  Chances were limited, as CSI only registered their first hit off of the otherwise untouchable Graham in the fourth inning, a seeing-eye single by Kristi Dillon.  Meanwhile the Pioneers threatened in the fourth, with back-to-back singles to lead off the inning by Samantha Mulderig and Jessica Phillips.  After registering two outs and the runners moved to third and second base, a diving stop and throw from the knees by CSI's Christine DeCarlo at shortstop, robbed WPU's Lachelle Rouse from what was sure to be an RBI-hit.
Two frames later, the Pioneers would hit paydirt.  Mulderig led-off again with a single and was moved over via sacrifice by Phillips.  Danielle Capozzi then tallied home Mulderig on a line-drive base hit up the middle.  After an out and a Capozzi steal of second, CSI's Catherine Ebro misplayed a fly ball hit by Rouse in left field, allowing the ball to drop, allowing Capozzi to score.  With Rouse on third base, Ponsiglione ended the threat, stabbing at a ball hit by pinch-hitter Rachel Cannata.
The lead proved more than enough for Graham, as the hurler surrendered just a lone hit over the final two frames to earn the complete game three-hitter victory, fanning a pair.  Ponsiglione took the loss, surrendering two runs (one earned) on seven hits, also fanning a pair.  Mulderig finished the contest going 3-for-3 while CSI's Kristi Dillon tallied the only multi-hit game for the Dolphins, going 2-for-3.
In the second game, the matchup was the Dolphins' Victoria Procopio and the Pioneers' Kerrin Dys.  The duo breezed through the first two innings before both teams got on the board in the third frame.  A two-RBI single by Mulderig got the Pioneers started with one out, and after Mulderig stole second and was advanced via a long fly ball over to third base, she then came home on a Rachel Cannata RBI-single.  Raquel Roder followed with another looping single to advance Phillips who was at third, and before Procopio worked her way out of trouble, the visitors were up, 4-0.
CSI, however, responded quickly in their half of the frame.  Brittany Smith led off with a walk, and one at-bat later, Kaitlyn Flynn laced a double to left-center, bringing Smith home.  Two batters later, Ponsiglione roped another double to left-center, bringing in Flynn to cut the Pioneers lead in half, 4-2.
The Pioneers got a crucial insurance run in the fourth.  An infield single by Kelsey Principe got the inning started, and the left fielder came home on Katelyn Miele's RBI-groundout a few batters later to make it 5-2.
The two pitchers settled from there, allowing only four combined base runners in the next three frames, until CSI had their turn in the ninth.  Three straight singles by Smith, Flynn, and Solari loaded the bags, and Dys was lifted for Cannata in the circle.  Ponsiglione was the next at-bat, and despite flying out to right field, Smith came charging home to make the score 5-3.  With Flynn at third and Solari at second, Cannata's next pitch went wild and the duo was able to advance, making the score 5-4 with one out and Solari at third base.  CSI may have had a chance with the next at-bat, as Ebro grounded a pitch to second base, but the ball was not hit deep enough to warrant Solari coming home.  Down to their final out, Cannata got Amanda D'Amato to send another ground ball to second base, which was fielded cleanly to preserve the win for WPU.
Dys took the win for WPU, allowing four runs on 11 hits fanning two while Cannata recorded the save.  Procopio suffered the loss, allowing the five runs on seven hits, walking three.  Flynn led the way for CSI with a 3-for-4 performance with an RBI and two runs scored, while Mulderig continued to stay hot for the Pioneers, going 2-for-3 with 2 RBI.
CSI is next in action on Saturday when they resume their CUNYAC schedule.  The team will face Brooklyn College for a Noon doubleheader in a game to be played at Monsignor Crawford Field in Brooklyn, New York.