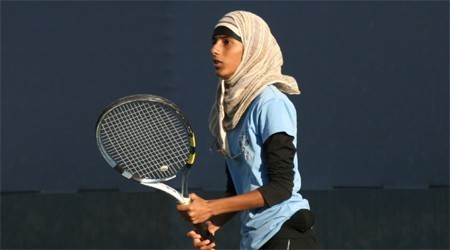 College of Staten Island freshman tennis star Madiha Mulla tabbed weekly honors this week, taking home the CUNYAC/Hospital For Special Surgery Rookie of the Week honor, it was announced today.  For Mulla, it is her first career honor, capping what was a terrific week for the frosh in what is developing into a solid initial campaign.  Mulla went 3-1 in singles during the week, sporting a perfect 4-0 record in doubles play.  CSI went 3-1 as a team, helping lift the Dolphins to a .500 record (4-4).
CSI's busy week started last Monday against Lehman College, a 9-0 Dolphins win.  Mulla shined at her trademarked No. 4 Singles position, grabbing a 6-2, 6-1, winner over Patricia Cadet, and teamed with Sabrina Bragerton-Nasert at No. 2 Doubles to score an 8-2 win.  The same doubles duo scored an 8-5 win two days later against Hunter College.  Mulla fell in singles play against Hunter's Stephanie Ahwireng, the only blemish in her week, but only after an incredibly long and hard-fought 7-6 (7-5), 3-6, 10-6, match.
From there, Mulla stayed perfect over the weekend against both Kean University and FDU-Florham.  Against the Cougars, she scored an 8-2 winner in doubles, before clinching the 5-4 CSI win via a marathon, 3-6, 6-3, 11-9, winner over Samirah Jackson.  CSI then evened its overall mark to 4-4 on the season with an 8-1 win over FDU, guided by another outstanding effort by Mulla.  Teamming up first with sophomore Jean Baak, the duo scored an 8-2 doubles win, and she then followed up with a 6-0, 6-0, powering over Lindsey Martin.
For the season, Mulla sports a 5-3 overall singles record, all at the No. 4 position in the lineup.  In doubles, she stands at 6-3. 
CSI has since played against John Jay College (an 8-1 win on Tuesday) and will next face Ramapo College on the road on Friday at 3:30pm.